Cookies and Bars
Cookies (and bars or squares) are probably the most popular and commonly made dessert of all. They're easy to make, fit so perfectly
in our hands, almost always store at room temperature and come in endless flavors, shapes and textures. While chocolate chip cookies are probably at the top of the popularity list, there are other very popular cookie recipes, such as butter cookies, sugar cookies, oatmeal cookies and peanut butter cookies. Beyond these all-time favorites are so many other wonderful cookie recipes.
Bars are very similar to cookies, but are usually made in a pan, then cut into square or rectangular shapes. Whether you prefer your cookies and bars chewy or crunchy, sweet or tart, frosted or plain, I hope you find these cookie and bar recipes as delicious as I do. I am always on a quest for new great cookie and bar recipes, and will add them to this page as I find them.
Cookie and Bar Recipes ▼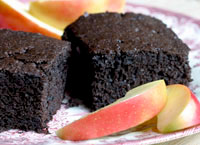 This easy brownie recipe produces a moist and soft brownie that leans on the healthy side. While most brownie recipes use granulated sugar as the main sweetening agent, these Applesauce Brownies are sweetened with brown sugar and applesauce, giving them a more wholesome flavor and natural tasting sweetness than traditional brownies.
Applesauce Brownies
are great to serve around the holidays!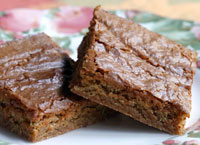 Blondies
are basically brownies made without chocolate. These chewy dessert bars are also sometimes called Butterscotch Brownies, due to the use of brown sugar rather than white sugar traditionally used in chocolate brownies. Chopped nuts, white chocolate or butterscotch morsels can be added to these bars, if desired. Blondies are also great topped with whipped topping or a scoop of vanilla ice cream.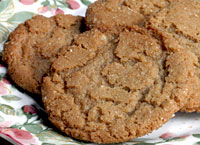 This
Brown Sugar Cookies recipe
produces a chewy cookie with a wonderful butterscotch-like flavor. Like traditional sugar cookies, these cookies are coated with sugar (coarse raw sugar is best!) that gives these cookies a delightful outer crunch. These cookies get their chewy texture and butterscotch flavor from brown sugar and browning of the butter before mixing it into the other ingredients. Melt-in-your-mouth goodness!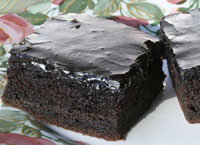 These
Buttermilk Brownies
are simply irresistable! Tthe texture of the cake portion of these brownies is very moist and full of cocoa flavor, while the frosting gives them rich, moist and chocolatey flavor. Both the cake and the frosting are made with buttermilk, and both recipes are so easy! It's a good thing this Buttermilk Brownie recipe makes a big batch of brownies, because as fast as they dissappear, you're going to need a lot!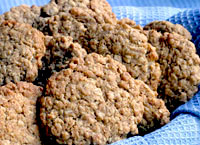 Buttermilk Oatmeal Cookies
are chewy and delicious, and lean on the healthy side. This
oatmeal cookie recipe
uses a generous amount of oats, along with whole wheat flour, brown sugar, butter and buttermilk, and can be whipped up in very little time. These cookies are a wonderful balance of sweet and wholesome, and are perfect to eat as a light and easy dessert, a quick breakfast on the run, or as a quick snack anytime!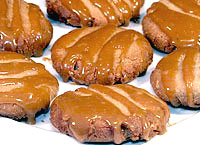 These
Cashew Caramel Cookies
are made with a homemade cashew butter that is prepared from actual cashews in your a processor, so these cookies have an undeniable authentic cashew flavor. More coarsely chopped cashews are added to the batter, giving these cookies even more delightful cashew goodness as well as a nice crunch. The cookies are topped with a delicious caramel sauce (optional, though wonderful!).