Turkey
Welcome to the new Turkey Recipes page! Eventually, this page will fill up with all sorts of great turkey recipes, such as easy and healthy ground turkey recipes, turkey recipes for Thanksgiving, leftover turkey recipes, healthy soup recipes made with turkey,
healthy pasta recipes and much more. For now, however, even though we begin with three turkey recipes, keep in mind that almost any
chicken recipe
can be made using turkey, and most any ground chicken or ground beef recipe can be made with ground turkey. When it comes to soup recipes, essentially any chicken soup recipe can be transformed into a turkey soup recipe, simply by subsituting the chicken with turkey. Let's also not forget sandwiches. Chicken sandwiches can also be made using turkey, such as
California Wrappers
,
Chicken Panini Tapenade
, and
Hummus Chicken Salad
. So, if you'd like to browse some other great ideas for turkey recipes, check out the
Chicken
page, the
Sandwiches
page, or the
Soup
page for recipes made with chicken that can easily be turned into great turkey recipes! This Turkey Recipes page will continue to grow, so please do check back again soon when you're searching for a great turkey recipe!
Turkey Recipes ▼
Asian Turkey Burgers with Pickled Asian Slaw
features grilled turkey patties flavored with soy sauce, hoisin sauce, sesame oil, minced garlic and minced green onions. A chili lime and lemongrass spread is applied to buttered and grilled
hamburger buns
, then the grilled turkey patties are placed on top with a tangy and delicious Asian coleslaw made with Napa cabbage, red bell pepper, pickled ginger and an Asian marinade.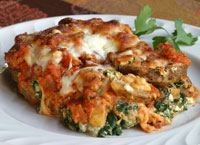 This healthy lasagna recipe features layers of sliced potatoes, ricotta and mozzarella cheese, and a seasoned sauce made with lean ground turkey, onions and your favorite jar of pasta sauce. The lasagna is topped with Parmesan and baked until hot and bubbly.
Potato and Spinach Lasagna
feeds plenty, and will leave your guests satisfied long after the last bite! May also be made with ground chicken or lean ground beef.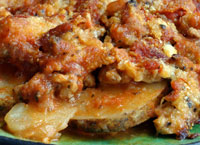 Potato Pizza Lasagna
is a fun, tasty and economical alternative to traditional lasagna recipes. If you enjoy pizza, lasagna and potatoes, you'll be able to enjoy the flavors of all three with this tasty potato and pizza lasagna recipe! For those following a gluten-free diet, this recipe can also be served as a gluten free lasagna. This potato casserole can be baked in the oven (1 hour 15 minutes) or microwave oven (20 minutes).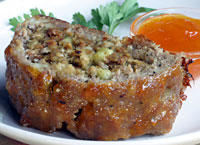 This ground turkey meatloaf recipe is a great alternative to traditional meatloaf!
Stuffed Turkey Meatloaf
features ground turkey (or ground chicken or lean ground beef) combined with eggs, soft bread crumbs and Italian dressing seasoning. The meat is stuffed with packaged stuffing mix combined with diced celery, mayonnaise and curry powder. While cooking, the meatloaf is basted with apricot or orange preserves, jam or marmalade.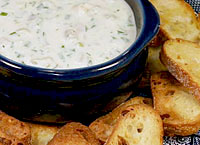 Turkey Artichoke Cheese Dip
is made with smoked sliced turkey, marinated artichoke hearts, sautéed diced green onions, and a combination of Parmesan and cream cheese, and is heated briefly on the stove and served warm (though is still delicious as it cools). It is a great dip to serve anytime, or during the holiday season, when many are cooking turkey dinners and serving other dishes that surround the turkey theme.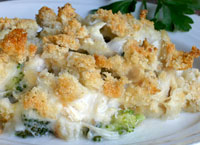 Turkey Broccoli Casserole
features strips of cooked turkey combined with a creamy Swiss cheese sauce that easily whips up on the stove. The cheesy turkey mixture is poured into a casserole dish over a layer of broccoli florets, then soft fresh bread crumbs that have been combined with a generous amount of Parmesan cheese and some butter are sprinkled over the top, and crisp and brown beautifully in the oven!