Turkey
Welcome to the new Turkey Recipes page! Eventually, this page will fill up with all sorts of great turkey recipes, such as easy and healthy ground turkey recipes, turkey recipes for Thanksgiving, leftover turkey recipes, healthy soup recipes made with turkey,
healthy pasta recipes and much more. For now, however, even though we begin with three turkey recipes, keep in mind that almost any
chicken recipe
can be made using turkey, and most any ground chicken or ground beef recipe can be made with ground turkey. When it comes to soup recipes, essentially any chicken soup recipe can be transformed into a turkey soup recipe, simply by subsituting the chicken with turkey. Let's also not forget sandwiches. Chicken sandwiches can also be made using turkey, such as
California Wrappers
,
Chicken Panini Tapenade
, and
Hummus Chicken Salad
. So, if you'd like to browse some other great ideas for turkey recipes, check out the
Chicken
page, the
Sandwiches
page, or the
Soup
page for recipes made with chicken that can easily be turned into great turkey recipes! This Turkey Recipes page will continue to grow, so please do check back again soon when you're searching for a great turkey recipe!
Turkey Recipes ▼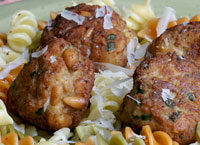 This
turkey meatball recipe
is delicious served as a main course with pasta and some
Marinara
poured over the top, but can also be made as a healthy appetizers for parties simply by reducing their size. These meatballs can be made with ground turkey, ground turkey breast, ground beef or ground pork, if desired. Thanksgiving holiday turkey leftovers can also be used to make these meatballs with a little help from a food processor!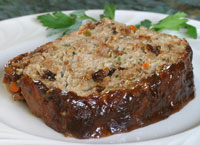 This healthy turkey meatloaf recipe is light and delicious, and is topped with a tart and mildly sweet prune glaze that in addition to also having healthy qualities, is moist and tastes uniquely amazing!
Turkey Mealoaf with Prune Glaze
features sautéed finely chopped onions, carrots, celery and minced garlic combined with ground turkey, parsley, bread, bread crumbs and egg, cooked in a meatloaf pan and topped with the delicious prune glaze.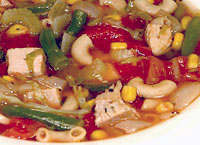 Turkey Vegetable Macaroni Soup
is filled with wholesome ingredients and abundant flavor! This healthy soup recipe only takes about 30 minutes to make and is a great way to use up some of those turkey leftovers during the holidays. Featuring turkey (chicken may also be used), green beans, corn, celery, tomatoes, shredded cabbage (optional) and elbow macaroni, this soup recipe provides a full and balanced meal!