Kitchen Supplies
Just as a good set of tools can help a carpenter get the job done more quickly and accurately and with less frustration, kitchen cooks benefit substantially from a good set of essential kitchen supplies. While restaurant kitchens are often stocked with the best commercial kitchen equipment available, home kitchen cooks can also turn their kitchens into a highly functional, productive and
inspiring environment, simply by stocking them with some helpful kitchen equipment. The list of kitchen equipment displayed on these Kitchen Supplies pages includes cooking supplies, baking supplies, kitchen gadgets, cookware and other kitchen equipment that will help make your experience in the kitchen a more efficient and enjoyable one. These kitchen supplies represent those I already own or would personally purchase if I were ready to upgrade, but there are certainly plenty of brands and styles from which to choose to suit your own personal needs, taste and budget. If you are shopping for one of the items shown below or would simply like to view more information, you can do so by clicking any of the image or text links for each item. If you're looking to save time, you can also immediately purchase any item shown simply by clicking the "buy now" button in the pop-up windows that appear when you hover over any image or text link. New kitchen supplies are added to these pages regularly, so please visit again soon for new kitchen equipment ideas!
Kitchen Supplies ▼
The surfaces of these baking pans feature a unique design of raised circles, making them nonstick and resistant to surface abrasion. Each pan is made of heavy gauge carbon steel which provides exceptional heat distribution, which produces more evenly baked cookies. These baking sheets require no nonstick spray or parchment paper and measure 10 x 15 Inches.
More Information:
Baking Pans (Circulon)
Bamboo Steamers are the perfect lightweight and inexpensive kitchen tool to steam a variety of foods in a delicate way, preserving shape, flavor and texture. This bamboo steamer has 2 levels that are stacked together, allowing for plenty of food to be placed in each section. Some foods steamed in bamboo steamers are
Chinese dumplings
, fish, vegetables and more.
More Information:
10-Inch 3-Piece Bamboo Steamer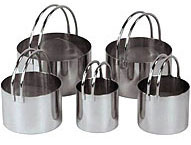 You probably won't realize how useful biscuit cutters are until you add them to your cooking tools collection. They are reasonably priced and make preparing biscuits, cookies and anything else that requires round cuts easy and fun. These high quality biscuit cutters are made with heavy duty stainless steel, with sizes ranging from 1.5 inches to 3 inches.
See more information: 
Stainless Steel Biscuit Cutter Set

Blenders do so much more than prepare drinks. They are great for crushing ice, mixing pancake and waffle batters, pureeing foods and sauces, making fruit smoothies, ice cream shakes, and the list goes on! This particular 5-speed Breville Blender gets great reviews, and features a LCD timer and highly functional blade system that draws the ingredients from the top hugs the bottom of the jug.
More information: 
Breville Blender

Bread machines are wonderful for those who love homemade bread. All you have to do is add the bread ingredients, select a bread type, then click "start!" In 2-4 hours, you will have a homemade loaf of bread with almost no effort involved. It does the kneading for you, keeps the bread at the right temperature for rising, and knows how long it needs to cook.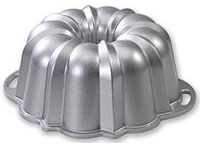 Bundt pans, also referred to as fluted pans or tube pans are generally used to make cakes, but can also be used to make gelled desserts and salads or even meatloaf. Bundt pans come in a large variety of shapes that can mold whatever you are making into a very impressive finished product. To see an example of a cake made with a bundt pan, see
Glazed Orange Graham Cake
.