Slow-Cooker
Slow cooker (also called "Crock Pot") dishes are a great way to make it feel like someone else has prepared your dinner for you, making your evenings
much easier and stress-free. Prepare your dinner in the morning, and let it cook by itself all day, filling the house with incredible smells. It's especially great for those who are not at home during the day, or those with busy schedules who are just too tired to prepare dinner after a long and busy day. Slow Cooker meals can be made even easier simply by preparing the ingredients the day before you cook, such as cutting meat or chopping vegetables. When the morning comes, simply add all your prepared ingredients to the slow cooker, set the temperature, and let it cook on its own throughout the day until dinner time. Slow cooker meals make dinners seem essentially effortless because there's no cooking required at the end of the day and there are very few dishes to clean!
Slow-Cooker Recipes ▼
This
Barbecue Baked Beans recipe
is a very easy side dish to make and goes wonderfully with any lunch or dinner barbecue dish or other meat dishes, including chicken, beef and pork. These beans are easy to pack up and take on a BBQ, picnic, party or any other event, and if you own a slow cooker or crock pot, can be kept warm for hours. Large bits of cooked bacon or chunks of ham can also be added to these beans if preferred.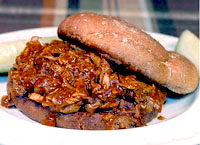 This
slow cooker BBQ Pork Sandwich recipe
will give you that delicious and distinct home-cooked flavor that can only be derived from combining all the right flavors and letting them simmer in your own kitchen - and with very little effort! All you need is a little ketchup, water, flavorings and spices, sliced pork (almost any cut will do) and some hamburger buns. This slow cooker recipe can also be made with chicken or beef.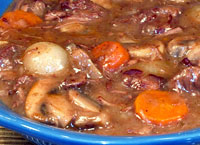 This
Boeuf Bourguignonne recipe
(a French term meaning, "Beef Burgundy") features an elegant French beef stew flavored with red wine and beef broth, filled with tender chunks of beef, crisp-cooked bacon pieces, chopped onions, pearl onions (small whole onions), mushrooms and sliced carrots. This particular recipe uses the slow-cooker method, and cooks for 4-6 hours, though you can also cook this on the stovetop.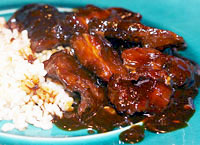 Whether you prefer country pork ribs or pork spare ribs, this
slow-cooker Candied Polynesian Spareribs recipe
delivers a fabulous-flavored sweet and tangy pork dish that will melt i n your mouth! Pork ribs are cooked for 8-10 hours in your slow-cooker (or crock-pot) with a sauce combining the flavors of soy sauce, ground ginger and fresh ginger root, sugar and dry mustard. Pork ribs can be served alone, while country ribs are great over rice!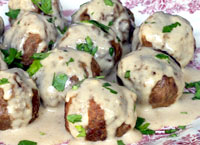 Norwegian Meatballs (also referred to as
Kjøttboller
in Norwegian cuisine) feature browned meatballs that slow-cook in a beef broth. When the meatballs are ready to serve, heavy cream is combined with the broth, creating a creamy, savory sauce. This sauce is briefly heated until thickened, then poured over the meatballs, which are then topped with chopped fresh parsley. This dish is great served as appetizers or a main course.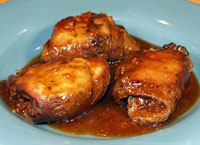 As with many other slow cooker dishes,
Nutty Chicken
is very easy to make. In just 4 hours you will have a richly colorful and elegant chicken dish that will be enjoyed by all ages. It's just a matter of spreading a mixture made with peanut butter on thinly sliced chicken breasts, folding the breasts in half, then placing the breasts in the slow cooker. Simply pour a sauce mixture over the chicken breasts, and start your cooker!