Slow-Cooker
Slow cooker (also called "Crock Pot") dishes are a great way to make it feel like someone else has prepared your dinner for you, making your evenings
much easier and stress-free. Prepare your dinner in the morning, and let it cook by itself all day, filling the house with incredible smells. It's especially great for those who are not at home during the day, or those with busy schedules who are just too tired to prepare dinner after a long and busy day. Slow Cooker meals can be made even easier simply by preparing the ingredients the day before you cook, such as cutting meat or chopping vegetables. When the morning comes, simply add all your prepared ingredients to the slow cooker, set the temperature, and let it cook on its own throughout the day until dinner time. Slow cooker meals make dinners seem essentially effortless because there's no cooking required at the end of the day and there are very few dishes to clean!
Slow-Cooker Recipes ▼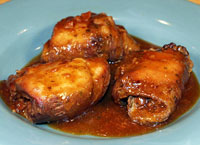 As with many other slow cooker dishes,
Nutty Chicken
is very easy to make. In just 4 hours you will have a richly colorful and elegant chicken dish that will be enjoyed by all ages. It's just a matter of spreading a mixture made with peanut butter on thinly sliced chicken breasts, folding the breasts in half, then placing the breasts in the slow cooker. Simply pour a sauce mixture over the chicken breasts, and start your cooker!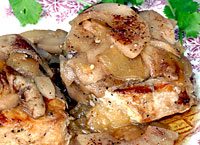 Pork is always delicious when accompanied by the flavor of apples. This
Pork Chops with Apples
recipe celebrates browned pork chops and apples in one of the easiest ways possible, with the help of a slow cooker. The Slow Cooker cooks the pork chops slowly, allowing the meat to tenderize while it soaks up the savory sweet juices produced by apples, pork and seasonings. The apples become tender and delicious as well!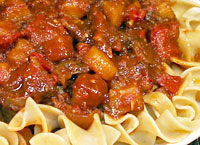 Rosy Beef Stew
derives its name from the rosy red color of this slow cooker dish as well as its unique flavor. This tasty stew has a thicker consistency than the traditional beef stew and is served over egg noodles much like beef stroganoff.
Rosy Beef Stew
is made with diced carrots, potatoes, red pepper, parsnips and pearl onions with bite-size chunks of stewing beef (pork, chicken or turkey may be used instead of beef.)