Cake
We don't need to wait for a birthday, holiday or other special occasion to inspire us to bake a cake! We can make them simply because they taste so amazing and bring us little
moments of joy. Often used to celebrate a special event, cakes are festive and decorative, and can be made in a large variety of styles and shapes, such as layer cakes, cupcakes, bundt cakes, coffee cakes, cheesecakes and more. While some cakes have the traditional bread-type filling coated with traditional sugar-based frosting, others might be filled with one or more layers of fruit, whipped cream or cream cheese frostings. No matter what type of cake you make, one thing is for certain - homemade is best, hands down. Here you will find recipes for layer cakes, bundt cakes, cinnamon rolls, cupcakes, coffee cakes, cheesecakes and muffins. New cake recipes will be regularly added to this page as time moves forward, so please visit again soon to check for new recipes.
Cake Recipes ▼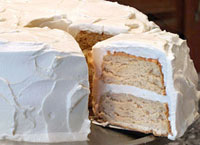 Angel Food Cake with Caramel Fluff
is made with brown sugar rather than white, giving it wonderful moistness and a subtle caramel-like flavor, as well as an attractive light amber color. This soft and fluffy angel cake is coated with a whipped topping also made with brown sugar, giving the topping a melt-in-your-mouth caramel-like flavor that blends perfectly with the mild caramel flavor and light and airy texture of the cake.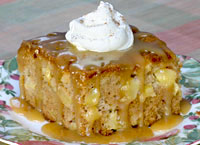 Is there such a thing as too delicious? This
Apple Cake with Caramel Glaze
will make you ponder this question, as your mouth explodes with a combination of spectacular flavors and a moist and chewy texture that can't be beat! This apple cake is flavored with cinnamon and nutmeg and is topped with a homemade caramel glaze that is ready after just 4 minutes on the stove. Spectacular topped with whipped cream or ice cream!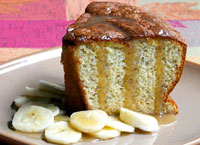 If you enjoy the flavors of banana cake and angel food cake, this
Banana Angel Food Cake
recipe is one you should try! The cake has the light and spongy texture of angel food cake, with the added bonus of true banana flavor. What makes this cake recipe complete is the caramel topping that is poured over the top of the cake and spills onto the slices of fresh bananas. This cake will satisfy that sweet tooth in a subtle yet satisfying way.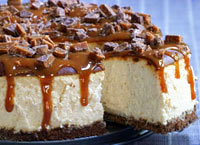 What could be more delicious, more irresistible and more decadent than a slice of rich and creamy cheesecake? if you're a lover of caramel and English toffee, then clearly, the answer is this cheesecake! This
Caramel Cheesecake recipe
produces a tall and fluffy cheesecake that sits on top of a gingersnap cookie crumb crust. Caramel sauce is generously drizzled over the top, along with crumbled bits English toffee candy.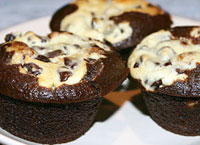 These
Chocolate Chip Cream Cheese Cupcakes
can also easily fall into the muffin category because they are not as sweet as traditional cupcakes, and don't use any icing. This makes them perfect served for dessert, breakfast, brunch and snacking. These cream cheese cupcakes are moist and delicious, and have a wonderful cream cheese and chocolate chip filling that reminds one of chocolate chip cheesecake.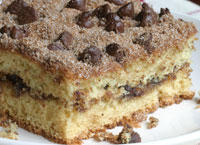 This
Chocolate Chip Sour Cream Coffee Cake recipe
is a spongy cake, featuring a couple layers of a unique mixture of chocolate chips, cinnamon, brown sugar and granulated sugar and is quite moist, thanks to a generous helping of sour cream. As with most coffee cake recipes, this coffee cake tastes great warm, fresh from the oven, at room temperature, or can be easily reheated in the microwave later.