Chocolate Chip Cream Cheese Cupcakes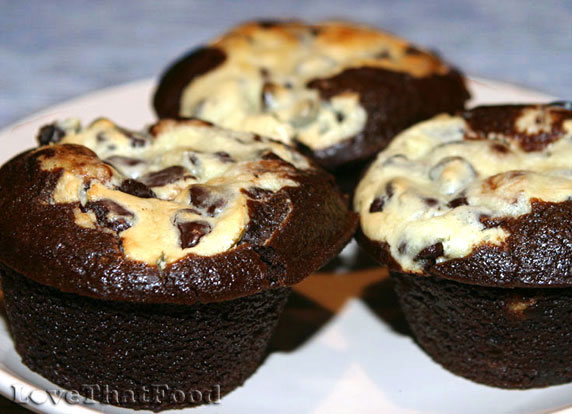 Suggestion:
Delicious served for breakfast, brunch, dessert or snacking.
These Chocolate Chip Cream Cheese Cupcakes can also easily fall into the muffin category,
because they are not as sweet as traditional cupcakes, and don't use any icing. This makes them perfect served for dessert, breakfast, brunch or snacking. These cream cheese cupcakes are moist and delicious, and have a wonderful cream cheese and chocolate chip filling that reminds one of chocolate chip cheesecake.
The chocolate cake portion of these cupcakes is made with powdered cocoa, which gives them a mild yet authentic and distinct cocoa flavor. The cream cheese topping recipe is very easy to make, consisting of a simple combination of cream cheese, egg, sugar and a little salt, and takes on a life of its own during baking, creating unique designs on each individual cupcake.
Ingredients
Cream Cheese Topping

1 8-oz. package cream cheese
1 egg
1/3 cup sugar
1/2 teaspoon salt
1 11-oz. package chocolate chips



Cake

1 1/2 cup sifted flour
1 teaspoon baking soda
1/4 cup cocoa
1 cup sugar
1/3 cup oil
1 cup water
1 tablespoon vinegar
1 teaspoon vanilla
finely chopped walnuts (optional)
Directions
Preheat oven to 325° F.
Cream Cheese Topping
In an electric mixer bowl, blend cream cheese, egg, the 1/3 cup sugar and salt. Remove bowl from mixer and manually stir in chocolate chips. Pour into another bowl and set aside. Clean out electric mixer bowl to use for cake batter.
Cake
Sift together into a medium-sized mixing bowl the flour, baking soda and cocoa. Set aside. In the electric mixer bowl, add the 1 cup of sugar, water, oil, water, vinegar and vanilla. Beat until smooth. Add the sifted flour mixture to the wet mixture and blend with electric mixer until smooth.
Spray all cups in cupcake baking sheet with non-stick cooking spray (or use cupcake liners instead of cooking spray). Fill each cup (or cupcake liner) 1/2 full with batter. Spoon 1 tablespoon cheese mixture on in the middle of each cup (or liner) on top of the cupcake batter. Sprinkle with nuts (optional) and bake 30-35 minutes or until a toothpick poked into the center of a cupcake comes out clean.
Allow to cool before removing from cupcake baking sheet.
Other recipes you might like: