Beef
There are many cuts of beef and endless ways to prepare beef recipes. Some of the most popular cuts of beef include beef roast, ground beef,
beef stew and beef steak (but it certainly doesn't stop there). Beef can be transformed into hamburgers, chili, casseroles, meatballs, roasts, grilled dishes, sauces and more. Various cuts of beef can be barbequed, broiled, baked, slow-cooked and/or stir-fried - and that's only the beginning. The method of preparation and spices, sauces and herbs you use can also create an endless variety of flavors and a wide variation of beef dishes. Below you will find a collection of recipes for beef dishes that are not only delicious, they're easy to prepare. You can find even more beef recipes in different categories listed throughout this site, such as Appetizers & Snacks, Pasta, Sandwiches, Soups & Stews and Stir-Fry to name a few.
Beef Recipes ▼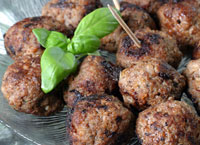 This easy meatball recipe features cocktail meatballs made with a combination of lean ground beef and ground pork, some Holland Rusk toast crumbs soaked in water and whipping cream, along with a some fresh basil leaves (or dried basil), garlic powder, cayenne pepper and salt and pepper.
Basil Meatballs
may also be made with other ground meats, and may be made as a main course with pasta and pasta sauce.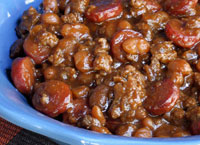 Beanie Weenie
is one of those quick and easy recipes you can fall back on on when you don't have a lot of time or energy to prepare dinner, but you want something tasty that your kids and you will enjoy. This simple skillet dish also provides great leftovers that heat up in minutes. All you need for this easy ground beef recipe is 1 pound of ground beef, a can of baked beans, a package of weenies and some barbeque sauce!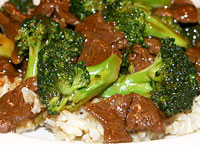 Beef and Broccoli
is a very popular Chinese stir-fry dish, possibly because it has just the right amount of spice to appeal to both the tame and wild at heart. This stir-fry recipe starts with thin tender strips of lean steak and broccoli florets that are briefly soaked in a soy sauce and fresh garlic marinade. The steak is browned and the broccoli is stir-fried to tender-crisp, then a flavorful sauce is stirred into the beef and broccoli. Great over rice!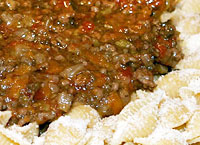 Beef and Red Wine Sauce
is a unique and elegant French pasta dish with fabulous and distinct flavor. Tender ground beef is cooked with finely diced vegetables in a beef-flavored broth with a hint of red wine, then served over a bed of pasta shells and sprinkled with freshly grated Parmesan cheese. This dish can be made in advance and refrigerated or frozen, then reheated. Truly delicious!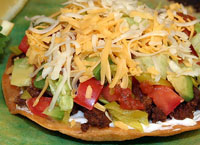 Beef Tostadas
are so easy to make and are a great last minute dinner idea. The photo shows these tostadas made with seasoned ground beef, but pork or chicken can be used as well. These tostadas feature layers of sour cream and homemade salsa, and toppings of tomatoes, avocadoes, pepperoncinis, iceberg lettuce and grated Monterey jack and cheddar cheeses - though you can easily customize the toppings to suit your taste.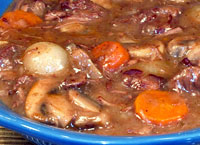 This
Boeuf Bourguignonne recipe
(a French term meaning, "Beef Burgundy") features an elegant French beef stew flavored with red wine and beef broth, filled with tender chunks of beef, crisp-cooked bacon pieces, chopped onions, pearl onions (small whole onions), mushrooms and sliced carrots. This particular recipe uses the slow-cooker method, and cooks for 4-6 hours, though you can also cook this on the stovetop.