Beanie Weenie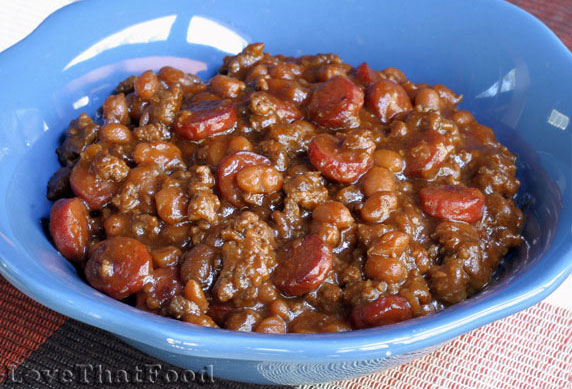 Tips:
For a thinner consistency (or when reheating), stir in a little water.
Beanie Weenie (also often referred to as Beanie Weenies or Beans and Franks) is one of those quick and easy recipes you can fall back on on when you don't have a lot of time or energy to prepare dinner, but you want something tasty that your kids and you will enjoy. This
simple skillet dish also provides great leftovers that heat up in minutes.
All you need for this easy ground beef recipe is 1 pound of ground beef, a can of baked beans, a package of weenies and some barbeque sauce (you most likely have the other flavoring ingredients in your kitchen). You can use any variety of weenies or smoked sausage you like (the above photo above shows this Beanie Weenie recipe made with all beef weenies). All that's required is a little browning of the weenie slices (you can even skip this step if you're in a real hurry or simply prefer your weenies without any browning), cooking the ground beef, then tossing the weenies, ground beef and beans all together with the flavorings and letting it all simmer for about 15 minutes. A simple salad and a side of bread go perfectly with this dish, and will make your family smile.
Ingredients
1 lb. ground beef
1 tablespoon oil
2 cups sliced (bite-size) weenies
1 28-oz can baked beans, drained
1 1/4 cup of your favorite bottled barbeque sauce
1/2 teaspoon allspice
2 tablespoons brown sugar
1 tablespoon yellow mustard
1 tablespoon molasses
1/2 teaspoon onion powder
1 tablespoon molasses
1 teaspoon Worcestershire sauce
salt & pepper to taste/li>
Directions
Slice weenies into bite-size pieces. Warm oil in large skillet add sliced weenies (alternatively, you can skip this browning step if you prefer and just add sliced weenies with the remaining ingredients after ground beef is cooked). Cook on medium heat until lightly browned (about 1-2 minutes). Remove from skillet and set aside. In same skillet, brown ground beef. Drain juices.

Add weenies and beans (without juice), and all other ingredients. Stir to mix well. Bring to a boil, then reduce to a simmer. Cover and simmer for about 15 minutes. Serve.
Other recipes you might like: