Beanie Weenie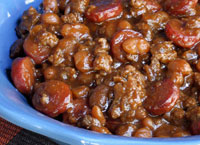 Suggestion:
Delicious served with any BBQ meat, Grilled Corn, and/or a green or potato salad.
Tips:
For a thinner consistency (or when reheating), stir in a little water.
Ingredients
1 lb. ground beef
1 tablespoon oil
2 cups sliced (bite-size) weenies
1 28-oz can baked beans, drained
1 1/4 cup of your favorite bottled barbeque sauce
1/2 teaspoon allspice
2 tablespoons brown sugar
1 tablespoon yellow mustard
1 tablespoon molasses
1/2 teaspoon onion powder
1 tablespoon molasses
1 teaspoon Worcestershire sauce
salt & pepper to taste/li>
Directions
Slice weenies into bite-size pieces. Warm oil in large skillet add sliced weenies. (Alternatively, you can skip this browning step if you prefer and just add sliced weenies with the remaining ingredients after ground beef is cooked). Cook on medium heat until lightly browned (about 1-2 minutes). Remove from skillet and set aside. In same skillet, brown ground beef. Drain juices.

Add weenies and beans (without juice), and all other ingredients. Stir to mix well. Bring to a boil, then reduce to a simmer. Cover and simmer for about 15 minutes. Serve.