Pie
Pie comes in so many varieties, that restaurants have been founded based on serving only pie. When most people think of pie, they probably think
of the traditional fruit-filled pie baked in a pastry dough crust. Pies can also come in many other forms, such as creamy pies and merinque, and can be made with ice cream, cream cheese, custard, pecans, yogurt or made with vegetables such as sweet potato and rhubarb. Pastry dough pies also can be served for meals (savory pies), using meats, vegetables, eggs and other ingredients. This page is of course dedicated to sweet pies, but in time savory pies will also be added to LoveThatFood's main dish recipe collections. Here you will find recipes for cream pies, fruit pies, ice cream pies, pumpkin pie and yogurt pie, as well as recipes for pie crust. Stay tuned, as new pie recipes will continue to be added to this page...
Pie Recipes ▼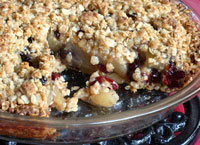 Apple Cranberry Crumb Pie
is an exceptionally easy pie recipe, featuring a canned apple pie filling combined with sweetened dried cranberries, giving this pie festive flavor and color! The apple and cranberry pie filling is baked in an crust that is also used for the crumb topping, made with flour, oats, brown sugar and butter. No need to core, peel and slice any apples with this pie. One can of pie filling will still produce that fresh baked pie flavor!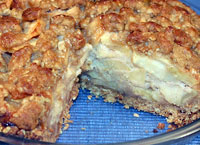 Apple Custard Pie
has the wonderful traditional flavor of apple pie, yet has the added flavor of a creamy sour cream, brown sugar and egg filling. The crust is made with whole rolled oats, brown sugar and butter which gives this pie a crumbly texture and wonderful flavor. The topping, also made with a mixture of whole rolled oats, brown sugar and butter has a crunchy and crumbly texture that crisps perfectly in the oven.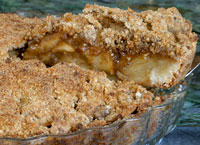 At first glance, this
Apple Tart with Crumb Topping
might look just like apple pie with crumb topping. Truth be told, when it comes to flavor, texture and the ingredients that make up the apple pie filling, the two are actually very similar! This delicious apple tart features an amazing flaky bottom pie crust and an irresistible filling made with brown sugar, cinnamon and cloves. The crumb topping is delightfully flaky and bursts with flavor!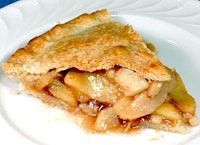 This
Apple Pie recipe
features a buttery, light and flaky crust and a delicious tart and sweet apple filling. The apples in this recipe are flavored with a caramelized sauce made with brown and white sugars, along with some nutmeg and cinnamon and a little butter. This sauce is cooked and reduced, then mixed with the apple slices, producing a beautiful and delicious glaze after baking.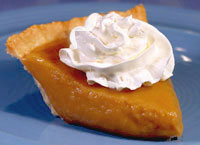 This
no-bake Butterscotch Pie recipe
is one of the easiest pie recipes you will ever make, requiring only a few ingredients and a few minutes on the stove. Just as authentic butterscotch is made with brown sugar, butter and perhaps some milk or cream, this pie uses these same ingredients, while adding some flour and eggs to transform it into just the right consistency for a creamy and delicious pie filling.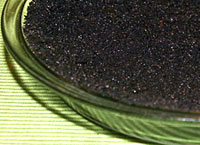 Chocolate Wafer Pie Crust
is similar to
Graham Cracker Pie Crust
, in that it is made of mildly sweet cookie crumbs (in this case, chocolate wafers) with a little added butter and sugar. This recipe is traditionally a crust used with creamy pies, such as chocolate cream pie, chocolate mousse pie or Cookies and Cream Pie to name a few. It also works beautifully with mint or lime-flavored pies as well as some cheesecakes.