Butterscotch Pie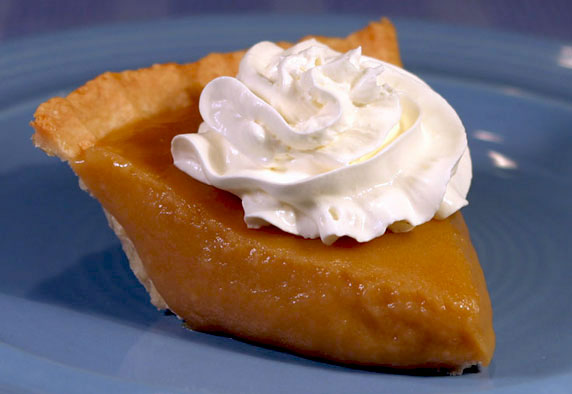 Tips:
If you would like to make your own pie crust (recommended), see
Pie Crust recipe
.
Suggestion:
Top with whipped cream if desired.
This no-bake Butterscotch Pie recipe is one of the easiest pie recipes you will ever make, requiring only a few ingredients and a few minutes on the stove. Just as authentic butterscotch is made with brown sugar, butter and perhaps some milk or cream, this pie uses these same ingredients, while
adding some flour and eggs to transform it into just the right consistency for a creamy and delicious pie filling. If you are in a real hurry, you can pick up a pre-baked pastry pie crust at the grocery store to use with this pie recipe. However, if you have a little time, (mostly for allowing the dough to chill in the fridge), you can easily whip up your own flaky homemade pie crust, giving this pie even more freshness and flavor and that touch of home (all you will need is some flour, butter and a little sugar and salt). You can even make a homemade pie crust in advance and store it in the fridge for a day or two until you're ready to bake it. You can top the entire pie with whipped cream then cut into slices, or top each serving with a dollop of whipped cream. (Note: Freshly whipped cream is recommended if you plan on refrigerating the pie with the whipped cream topping, because whipped cream from aerosol cans tends to melt in the refrigerator - though aerosol cans of whipped cream are fine for serving immediately.)
Ingredients
1 1/2 cups brown sugar
1/4 cup butter (1/2 stick)
1/3 cup flour
1/2 teaspoon salt
2 egg yolks
2 cups milk
1 prepared pie crust (or for homemade, see Pie Crust recipe
Directions
Place butter and brown sugar in a medium saucepan, and melt together on low medium-low heat, stirring constantly until butter is melted. In a small bowl, whisk together flour and salt, then add flour and salt mixture to saucepan and stir until blended. Add egg yolks and stir until blended. Turn heat up to medium and add milk, and using a whisk, stir constantly until mixture becomes thick and bubbly. Remove from heat and allow to cool for 3 minutes. Pour mixture into pie crust and chill in refrigerator for 1 or more hours. Top with whipped cream if desired.
Other recipes you might like: