This page is dedicated to the most recently added recipes on Love That Food. Each time a
new recipe is added to this website, it will be featured on the
Home Page
, and any previously featured recipes will be moved to this page. This New Recipes page will always show the last 10 newly added recipes, with the most recent recipe added to the top, as the last recipe is dropped from the bottom. If you reached this page via a search engine while searching for a particular recipe but don't see that recipe here, that is because that recipe was likely recently dropped from the bottom of the list. However, you can still easily find that recipe and other similar recipes simply by using the links under "Recipe Categories" displayed on the left side of every page, or by clicking other various links found all throughout LoveThatFood.
New Recipes ▼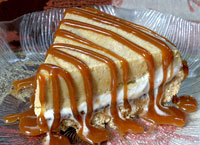 Pumpkin Caramel Ice Cream Pie
is a great alternative to pumpkin pie, and is an especially delicious way to cool down on a warm day! This ice cream pie begins with a homemade graham cracker crust. Layers of vanilla ice cream and a vanilla ice cream and pumpkin mixture rest on top of a layer of homemade caramel sauce. After freezing, when you're ready to serve this refreshing pie, more warmed caramel sauce is drizzled over the top.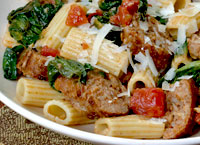 This
Rigatoni Barese with Spinach and Basil recipe
entertains a fabulous blend of flavors, and takes very little preparation! This light, hearty and healthy pasta and Italian sausage dish features rigatoni pasta, chunks of Barese sausage (Italian sausage), fresh torn spinach and fresh basil leaves cooked with stewed tomatoes and minced garlic. Topped with shaved or shredded Parmesan cheese, this flavorful pasta dish delivers!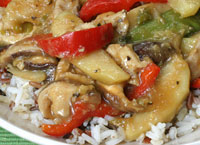 When it comes to quick and easy healthy chicken recipes, stir-fry recipes just can't be beat! This
Ginger Chicken Stir-Fry with Apples recipe
is as fresh and healthy as can be, made with a colorful blend of crisp-tender vegetables, slices of chicken breast and apples stir-fried with a tangy and delicious sauce flavored with applesauce, soy sauce, chicken broth (or water) and apple cider vinegar. Perfect served over rice!
This thick and cheesy and very easy
healthy homemade vegetable soup recipe
can be made using fresh or pre-cut frozen Normandy blend vegetables (traditionally consisting of a combination of bite-size cuts of broccoli forets, cauliflower florets, carrots, yellow squash and zucchini squash.) Once cooked, some of the vegetables are puréed in the blender, then added back to the soup as a thickening agent. Healthy, cheesy and delicious!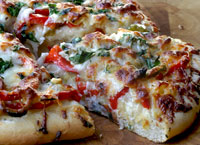 This unique and colorful
Lemon Cheese Pizza
features
homemade pizza dough
that is brushed with olive oil and sprinkled with lemon zest (optional). Slices of lemon, red bell pepper, jalapeno pepper and garlic are briefly sautéed, then arranged on the pizza dough. A blend of 3 or 6 shredded Italian cheeses is then arranged over the top of the sautéed ingredients and some chopped fresh Italian parsley is sprinkled over the top of the cheese.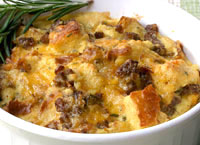 Sausage and Rosemary Strata
is an easy and gourmet style casserole dish that is delicious served for breakfast, brunch, lunch or dinner. This strata recipe can be baked in one casserole dish or in smaller individual serving size ramekins. Made with eggs, shredded cheddar cheese, crumbled breakfast sausage, cubes of roasted garlic bread and fresh chopped rosemary, this casserole dish has texture and flavor suited for all ages!
Sugared Chocolate Pretzels
are a fun alternative to traditional cookie recipes because of their attractive twisted shape and crunchy sugar coating. These chocolate pretzels have a full chocolate flavor provided by powdered cocoa, and are sweetened with sugar and a little honey. These sweet pretzels can also easily be upgraded to a gourmet recipe, simply by dipping one or both ends in milk, dark or white chocolate!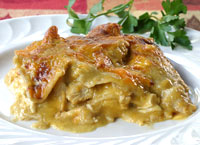 This amazingly quick and easy
Chicken Enchilada Casserole
will not disappoint! This delicious cheesy chicken casserole recipe features layers of corn tortillas, shredded o r cubed chicken (or turkey), grated cheddar cheese and green enchilada sauce. Simply layer the ingredients in a casserole dish. When baked, the juices bubble through and the top layer of corn tortillas and cheese becomes golden and crispy!
Though this pastel green soup would easily fall into the category of St. Patrick's Day food, there's no need for a holiday to celebrate this tangy and delicious
Avocado, Tomatillo and Green Chile soup
! This soup is traditionally eaten chilled, though is also delicious hot, and requires no cooking! This soup is made with avocado, tomatillo, green chiles, chicken broth and sour cream, and is topped with crispy fried tortilla strips.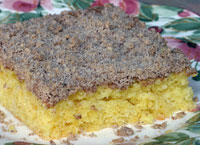 This recipe for
Orange Cinnamon Crumb Cake
features an mildly sweet light, soft and fluffy pan cake flavored with orange zest and orange juice, giving this cake a nice hint of fresh citrus flavor as well as enhanced vibrant color. The cinnamon crumb topping for this cake is as easy as ever to make, and has a nice slightly crisp and crumbly texture after baking. This cake can be made with prepared or fresh squeezed orange juice.
Don't see the recipe you're looking for...?


That's probably because that recipe was recently dropped off the bottom of this list after enough new recipes were added above it. The recipe you're looking for is still here, and can easily be found by clicking one of the appropriate links under "Recipe Categories" on the upper left side of this or any other page.