Lemon Herbed Chicken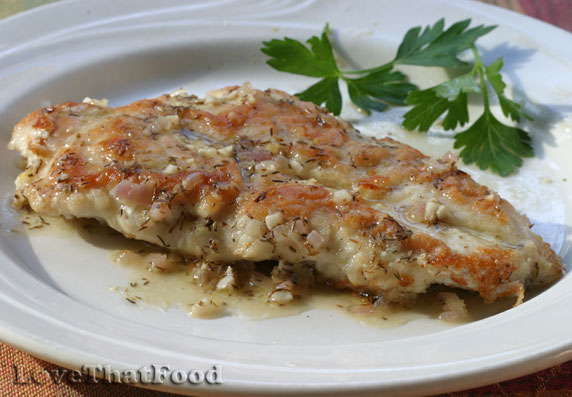 Yield:
4 servings if chicken breasts are cooked whole, or up to 8 servings if chicken breasts are cut in half horizontally to reduce thickness
Cook Time:
About 15 minutes
Tips:
Chicken breasts cut in half horizontally will cook faster and more evenly.
Most of us are always on the lookout for great new chicken breast recipes, and finding chicken recipes that are quick and easy is a plus! This Lemon Herbed Chicken is super easy to make and has fabulous light and fresh flavor. It also makes a very attractive visual presentation.
To prepare this delicious lemon chicken recipe, the chicken breasts are dredged with some flour, then cooked in a skillet on both sides until they're cooked through and
turn light golden brown in color. The sauce is made simply by combining (in the same skillet you use for cooking the chicken) lemon juice, lemon zest, diced shallots, thyme (fresh or dried), chicken broth and a little butter. These ingredients are only cooked for a few minutes, then the chicken breasts are returned to the skillet to be coated with the sauce. It's incredibly easy to make!
Depending on your personal preference, you can keep your chicken breasts in their full form, or as the photo above shows, you can slice the chicken breasts in half horizontally to reduce their thickness. I personally prefer the thinner chicken breasts, because they cook faster and more evenly, and each and every bite will be able to capture a good amount of that incredible sauce! (Note: Most packaged chicken breasts come already cut in half, though chicken breasts also can be purchased whole with the two halves still connected; in which case they will need to be cut in half for this recipe.)
Ingredients
1/2 cup flour
salt
black pepper
4 boneless, skinless chicken breast halves
2 tablespoons olive oil
4 sprigs fresh thyme or 1 teaspoon dried thyme
2 tablespoons finely chopped shallots
2 teaspoons minced garlic
2 teaspoons grated lemon zest
3 tablespoons lemon juice
1/2 cup chicken broth
2 tablespoons butter
Directions
Slice chicken breasts in half horizontally to reduce thickness. (Note: Chicken breasts may also be left in their whole condition, though might take slighter longer to cook and will produce fewer servings.) Place flour in a shallow bowl and season with salt and pepper. Lightly coat chicken breast pieces with seasoned flour, gently shaking off any excess.

Heat oil over medium heat in a large skillet. Add floured chicken breast pieces and cook over medium-high heat, uncovered, for 5 minutes or until lightly browned. Turn chicken over and cook for an additional 5 minutes, or until cooked through. Remove chicken from skillet and place on a plate while preparing sauce. Cover with aluminum foil to keep warm.

Reduce heat to medium, then add thyme, shallots and garlic and cook for about 1 minute, being careful not to burn the garlic. Add lemon zest, lemon juice and broth and stir to combine. Scrape the skillet to loosen any bits and pieces left behind from cooking the chicken and stir again. Add butter, and cook for 1 minute or until melted, stirring constantly. Return chicken to skillet and cook for 2 more minutes. Dish onto individual servings plates and drizzle with sauce. (Alternatively, chicken pieces may be served on a platter and sauce may be drizzled over all chicken breasts.)
Other recipes you might like: