Chicken with Lemon Herb Sauce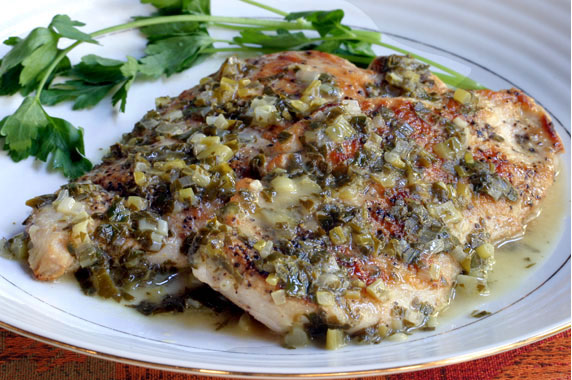 Cook Time:
About 15 minutes
Tips:
Sauce may be made a day or two in advance and chilled in refrigerator.
Chicken with Lemon Herb Sauce is one of those great easy dishes that you can whip up in no
time, requires only a few ingredients, and has terrific gourmet flavor. This healthy and colorful chicken recipe features sautéed chicken breasts topped with a delicious light and tangy sauce made of chopped green onions, chopped fresh Italian parsley, Dijon mustard, freshly squeezed lemon juice and a modest amount of chicken broth. Once you cook the seasoned chicken (a whopping 10 minutes or so), simply sauté the onions and parsley, add the sauce ingredients and cook for 1 minute, then drizzle the sauce over the chicken and enjoy!
Chicken with Lemon Herb Sauce is a great last minute dish that all ages will enjoy. It's also a great dish to prepare whether you're feeding a few guests or large crowd. Leftovers are a snap - just reheat in the microwave with the sauce for 30 seconds up to 1 minute.
Ingredients
Chicken

2 boneless, skinless chicken breasts
1/2 teaspoon salt
1/4 teaspoon black pepper (preferably coarse)
1 tablespoon olive oil
1 tablespoon butter



Sauce

1 tablespoon butter
3 tablespoons chopped green onions (both white and green parts)
freshly squeezed juice of 1/2 lemon
3 tablespoons chopped fresh flat leaf parsley
2 teaspoons Dijon mustard
1/4 cup chicken broth
Directions
Chicken
Slice each chicken breast in half to create 2 chicken breast halves. Season with salt and pepper. Heat oil and butter in a large skillet. Add chicken and cook over medium-high heat until cooked through and lightly browned on both sides (about 5-7 minutes per side). Transfer chicken to a serving platter and cover with aluminum foil to keep warm. Leave bits and pieces from cooked chicken in skillet, as this will become part of the sauce.
Sauce
Add to skillet butter and heat until melted. Add green onions, parsley, lemon juice and mustard and cook over medium heat, whisking constantly for 15 seconds. Add broth and continue whisking for about 1 minute or until sauce appears smooth and blended. Pour sauce over chicken and serve.
Other recipes you might like: