Bread
Bread has been loved all around the world for thousands of years. It's no wonder, considering the many ways bread can be made, flavored and incorporated into so many foods, not to mention how universally good it tastes! Bread can be served as a
main course for breakfast, a tasty accompaniment to a meal, or an anytime snack. It can be used in baked dishes and casseroles, desserts and more. Bread recipes shown below include croutons, pizza dough, breadsticks, biscuits, quick breads, muffins, croissants (crescent rolls) and more, as well as flavo rful spreads to top bread. Making your own homemade bread is much easier than you think. With the invention of the bread machine, making a loaf of homemade bread is as simple as a press of a button. Making bread without a bread machine is still very easy, giving you more control over the entire process as well as the shaping of the bread before you bake it, and quite frankly, it's fun! For bread recipes on the 'sweet' side such as muffins, cinnamon rolls and other breakfast foods, please visit the Breakfasts page.
Bread Recipes ▼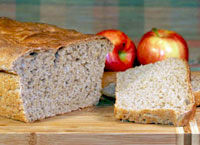 Applesauce Bread
is truly delicious, with fabulous apple flavor and natural sweetness provided by applesauce, apple juice and grated apples. When toasted to a golden brown, this bread has a texture similar to toasted English muffins, with tons of crispy nooks and crannies that allow the butter to ooze down inside. This wholesome bread is made using both white and whole wheat flour, and is flavored with hints of cinnamon and nutmeg.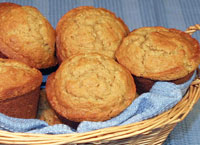 These aren't ordinary banana muffins!
Banana, Cream Cheese Oatmeal Muffins
are moist and hearty, and have fabulous flavor. Along with cream cheese, they are made with brown sugar (no white sugar), a mixture of whole wheat and all-purpose flour and a generous helping of oatmeal for texture, flavor and healthiness. These muffins are fluffy and moist, and lean on the healthy side, and are a great served for breakfast and brunch!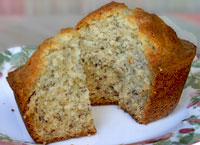 Banana Muffins combine all the flavor and moist, soft and fluffy texture of traditional banana bread with the convenience and fun of a muffin. These muffins can be made into 12 small or 6 large muffins. If you enjoy the mildly crispy top crust of homebaked banana bread, these muffins are just for you, with plenty of that wonderful banana bread top! Just like banana bread, these muffins are great with or without butter or toasted!.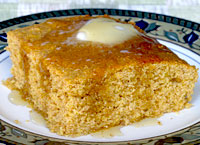 This hearty, wholesome and healthy
Bran Cornbread recipe
is a wonderful change from traditional cornbread recipes. This cornbread is made with whole wheat flour, bran and honey, giving it fabulous flavor as well as enhanced nutrition and fiber. Bran Cornbread is crumbly and slightly heavier than traditional cornbread made with all-purpose flour and granulated sugar, which makes this healthy version very satisfying and hunger-quenching!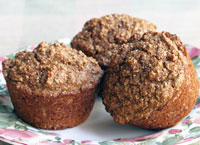 This wholesome and delicious
Bran Muffins recipe
is made with pure bran, whole wheat flour, buttermilk, molasses, egg, and a trace amount of butter, and are super easy to make - no electric mixer needed for this recipe! These healthy muffins taste wonderful right out of the oven topped with butter and honey, and are just as tasty cooled. Bran Muffins are perfect served for breakfast or brunch, a bread side for any meal.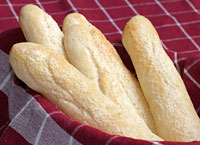 These delicious
Cheese and Garlic Breadsticks
have a very light and fluffy texture and are coated with melted butter, garlic salt and grated Parmesan cheese. They are fabulous on their own, warm, right out of the oven, or served with warm Marinara Sauce for dipping. This recipe is very easy and produces a large batch of breadsticks.
Cheese and Garlic Breadsticks
are great served as appetizers or as a bread side to main courses.