Cheese and Garlic Breadsticks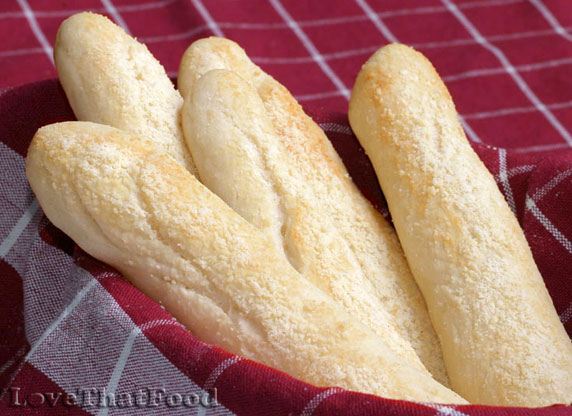 Yield:
About 32 breadsticks
Tips:
Sesame seeds (hulled) may be used in place of Parmesan cheese if desired. May be frozen and reheated in microwave when ready to serve.
Suggestion:
Serve as an appetizer, as a bread side with most any meal, or as an anytime snack. Delicious served with Marinara Sauce for dipping.
These delicious Cheese and Garlic Breadsticks have a very light and fluffy texture and are coated with melted butter, garlic salt and grated Parmesan cheese. They are fabulous on their own, warm, right out of the oven, or served with warm Marinara Sauce for dipping. This recipe is very easy and
produces a large batch of breadsticks. The process of making the breadsticks is fun, and a great project for the kids or for those who are kids at heart!
These cheesy breadsticks can be served with any meal that is well complimented by a serving of bread. They also are wonderful with soup, and are great for dipping into the soup and mopping up every last bite. Cheese & Garlic Breadsticks can also be served as appetizers for parties, brunches, holidays or any social event. Placed in a sealed container or plastic bag, these twisty breadsticks require no refrigeration and can be stored at room temperature for days (though it is doubtful they will last that long!). To reheat, simply heat in the microwave for 10-20 seconds, depending on how many you heat at one time. These breadsticks may also be frozen and reheated when ready to serve.
Ingredients
2 packages (1/4 ounce each) or 2 tablespoons active dry yeast
1 1/2 cups warm water (110° to 115°)
1/2 cup warm milk (110° to 115°)
3 tablespoons sugar
3 tablespoons butter, softened
1/4 cup butter, melted
1 teaspoon salt
4 1/2 cups all-purpose flour
1/4 cup grated Parmesan cheese
1/2 teaspoon garlic salt
Directions
In a large bowl, dissolve yeast in warm water. Add the milk, sugar, 3 tablespoons butter, salt and flour. Beat on low medium until smooth. If dough sticks to your fingers and the bowl, add a little flour (about 2 teaspoons at a time) and mix. Continue mixing in additional small amounts of flour just until the dough is not too sticky to lift from the bowl.

Transfer dough to a lightly floured work surface. Knead (push and fold dough over onto itself repeatedly) until smooth and elastic (about 5 minutes). Form dough into a ball. Oil the entire insides of a large bowl (preferably glass). Place dough ball in bowl, rolling ball around to coat entire surface with oil. Cover bowl with plastic and let dough rise until doubled in size (about 45 minutes).

Once doubled in size, transfer the dough to a lightly floured surface. Divide dough ball into 32 pieces (cut dough ball in half, then cut halves in half, and continue cutting pieces in half until you reach 32 equal portions). Shape each piece into a 6-inch rope by rolling back and forth with the palm of your hands on the work surface. (Don't worry if the shapes aren't perfect. As the dough rises, the ropes will even out quite a bit. Plus, various unique shapes give these breadsticks the homemade look). Place ropes 2 inches apart on greased (using butter, oil or nonstick spray) baking sheets. Allow to rise uncovered until doubled (about 25 minutes).

Fifteen minutes before you are ready to bake the breadsticks, preheat oven to 400° F.

Whisk together Parmesan cheese and garlic salt in a small mixing bowl. Brush melted butter over breadsticks, then sprinkle breadsticks with Parmesan cheese and garlic salt mixture. (If you run out before topping all breadsticks, just sprinkle some Parmesan cheese and garlic salt out of their containers, being careful not to pour too much garlic salt (a small amount goes a long way). Bake for 8-10 minutes or breadsticks begin to turn light golden in color. Remove breadsticks from baking sheets and transfer to wire racks to cool. Serve plain or with Marinara Sauce.
Other recipes you might like: