Cinnamon Twists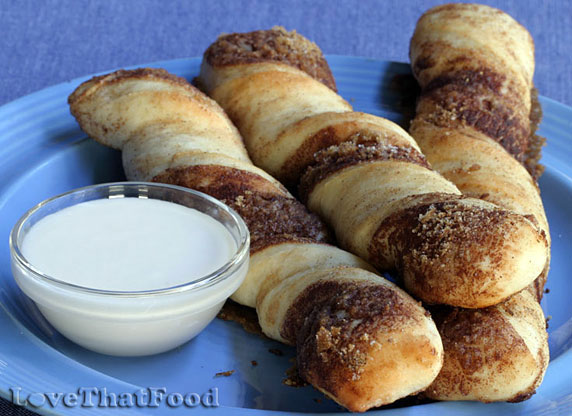 Tips:
Icing may be served on the side for dipping or drizzled over the top. Alternatively, icing may be omitted and twists may be coated with coarse raw sugar prior to baking.
Suggestion:
Serve for breakfast or brunch, as a dessert or snack.
If you enjoy cinnamon rolls, then you'll enjoy this Cinnamon Twists recipe. They're made with the same kind of soft and fluffy dough, and the same delicious
buttery cinnamon, brown sugar and white sugar filling. To make these delicious sweet breadsticks more convenient and fun, a recipe for a buttery vanilla icing is included that can be served on the side for dipping (as shown in photo) or drizzled over the top. Alternatively, you can skip the icing and simply sprinkle the twists with a generous helping of coarse raw sugar, which will give these Cinnamon Twists a nice and sweet outer crunch.
Cinnamon Twists can be served for breakfast or brunch, or as a dessert or snack, and are great for parties or other social gatherings. This recipe makes about 3 dozen twists, but they will not last long! They also store nicely in an air-tight container - or you can freeze and briefly reheat them in the microwave (about 15-25 seconds per every 2 twists) when ready to serve.
Ingredients
Bread Dough

2 packages (1/4 ounce each) or 2 tablespoons active dry yeast
1 1/2 cups warm water (110° to 115°)
1/2 cup warm milk (110° to 115°)
3 tablespoons sugar
3 tablespoons butter, softened
1/2 teaspoon salt
4 1/2 cups all-purpose flour



Filling

1/4 cup butter, softened
1/4 cup melted butter
1/4 cup cinnamon
1/4 cup brown sugar
1/4 cup granulated white sugar



Icing

(may be doubled, if desired)
2 cups confectioner's (powdered) sugar
1 tablespoon butter, melted
1 teaspoon vanilla extract
2 tablespoons milk or cream (and more as needed)
Directions
Filling
In a small mixing bowl, combine cinnamon, brown sugar and white sugar. Set aside.
Dough
In an electric mixer bowl, add warm water and yeast and allow to dissolve for 1-2 minutes. Add the warm milk, sugar, butter, salt and briefly mix on low to blend. Gradually add flour and mix on low until mixture becomes a smooth dough. If dough sticks to the sides of the bowl, add a little flour (about 2 teaspoons at a time) and mix in. Continue adding small amounts of flour until the dough no longer sticks to the sides of the bowl, yet is still soft and pliable.
Transfer dough to a lightly floured work surface. Knead (push and fold dough over onto itself repeatedly) until smooth and elastic (about 5 minutes). Form dough into a ball and place in a bowl greased with oil, rolling ball around to coat entire surface with oil to prevent drying. Cover bowl with plastic wrap and allow to rise in a warm area until doubled (about 45 minutes).
Once dough has doubled in size, grease 1-3 large baking sheets with butter or nonstick spray and set aside. (Note: If using only 1 baking sheet, simply bake one batch at a time, allowing baking sheet to cool before transferring a new batch of dough to baking sheet.) Fifteen minutes before baking, preheat oven to 375° F.
Transfer dough to a lightly floured work surface. Briefly knead dough (about 2-3 minutes) and form into a ball. Cut ball into 3 equal portions. Roll each dough portion into a 6-inch-wide rectangle with a 1/4-inch-thick depth (will probably result in a 6x12-inch rectangle), occasionally lifting dough and setting back down to relax dough, while adding flour as needed to prevent sticking.
Carefully lift and transfer dough rectangle to baking sheet. Spread 1/3 of the softened butter on entire top of dough rectangle, then sprinkle 1/4 cup of cinnamon and sugar mixture evenly over entire top.
Using a pizza cutter, pastry cutter or sharp knife, cut as many 1x6-inch pieces as dough will make. Holding both ends of each dough strip, gently twist (about 2 times) in opposite directions to form a twisted shape. (Note: If any filling ingredients fall out while twisting, scoop them up with a spatula and simply slip them back into the cracks of the twisted dough.) Using a pastry brush, gently brush melted butter over the areas of dough that have no cinnamon mixture - this will keep the dough moist while rising as well as add flavor). Place twists about 2 inches apart on baking sheet.
Allow to rise again, uncovered in a warm place until puffy (about 30 minutes to 1 hour). Bake in preheated oven for 10-15 minutes, or until twists begin to turn a light golden color. Remove twists immediately from sheet and transfer to a cooling rack. Store in air-tight container. Serve at room temperature or reheat 1-4 twists in microwave for 15-25 seconds to serve warm. May also be frozen and reheated in microwave when ready to serve.
Repeat procedure above until all dough is used.
Icing
In a medium mixing bowl, combine all Icing ingredients and whisk until smooth. Add a few extra drops of milk or cream as necessary to achieve desired consistency. (Tip: If using the dipping method, icing should not be too thick. If spreading the icing over the twists, icing may be a little thicker so it does not drip off of twists too quickly.) See recipe "Tips" and recipe description for alternate topping method.
Other recipes you might like: