Salads
The ways in which one can create a salad are endless! With such a large variety of salads out there, there's no need to confine ourselves to the routine dinner salad topped with our favorite bottled dressing. Salads are so versatile, and can be served for lunch, as a dinner salad before a main course, the main course itself or a side dish along with a main course. Salads can come in the form of leafy
greens, such as Romaine leaves, iceberg lettuce, butter lettuce or red lettuce, as well as watercress, spinach arugula and more. Salads can also be made with vegetables (such as potatoes, carrots, asparagus, beans and cucumbers), pasta, cabbage (for coleslaw), tuna and eggs, as well as fruits and gelatins.
Salads provide a healthy dose of fiber, vitamins and minerals (some more than others, depending on the salad ingredients used). As shown below, they can contain any variety of ingredients, including avocado, chicken, pasta, tomatoes, bean sprouts, celery, fruit, beans, corn chips, seafood, and can be dressed with any number of salad dressings. Below you will find recipes for a variety of leafy green and other salads, as well as some potato salad recipes. Salads are almost always quick and easy to put together, with just a little chopping and mixing - and if you let your creative side emerge, will be entertaining as well as delicious!
Salad Recipes ▼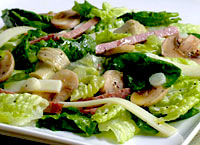 This
Antipasto Salad recipe
uses crisp romaine leaves,fresh spinach leaves, fresh mushrooms, marinated artichoke hearts, sliced green onions and thin strips of summer sausage and provolone cheese. These ingredients are then mixed with a simple and delicious homemade Italian-style salad dressing made with extra virgin olive oil, white or red wine vinegar, seasoned salt, dry mustard and coarsely ground pepper.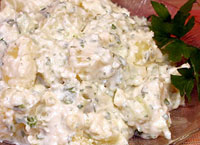 Blue Cheese Potato Salad
is a distinctive and delicious potato salad that stands apart from the rest! Real chunks of crumbled blue cheese are featured in this potato salad recipe along with sour cream, green onions, celery, wine vinegar and fresh parsley. This potato salad has the unique flavor and tanginess you can only get from true blue cheese. Photo shows this potato salad made with Gold Yukon potatoes.
Broccoli Salad with Honey Mustard
features broccoli florets, crisp bacon pieces, apple slices, peanuts and raisins, and is tossed with a delightful honey mustard dressing made with sour cream, mayonnaise, prepared mustard and honey. The broccoli florets can be prepared fresh (raw) or blanched (briefly cooked) to a tender-crisp, which tenderizes them yet retains a nice crunch that blends perfectly with the other ingredients.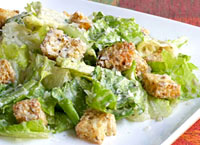 This Caesar Salad
is a beautifully simple salad with tangy, lively flavor, featuring romaine lettuce leaves and croutons, and topped with some freshly grated parmesan cheese and freshly ground black pepper. This popular salad doesn't really require any other ingredients to entertain your taste buds, especially when it is tossed with its tangy Caesar Salad Dressing recipe, which is made with the perfect blend of zesty ingredients.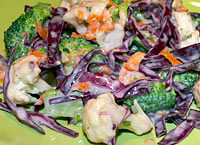 This
Cauliflower and Broccoli Slaw recipe
is a delightful alternative to traditional coleslaw and has vibrant color as well as valuable nutritional health benefits! This colorful vegetable coleslaw features a mixture of cauliflower and broccoli florets, shredded carrots, thinly sliced red cabbage and red onions. These fresh ingredients are tossed with a tangy Zesty Ranch Dressing made with the perfect blend of ingredients.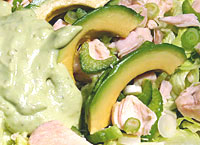 This
Chicken & Avocado Salad recipe
is fresh and satisfying, and features a pretty variety of green colors. This delicious salad is made with chicken breast chunks, thinly sliced celery and green onions in a bed of crispy iceberg lettuce. It is then topped with a delightful light and creamy avocado dressing that's flavored with lemon juice and fresh dill. Surprisingly, avocado dressing served with an avocado salad is the perfect combo!