Caprese Pasta Salad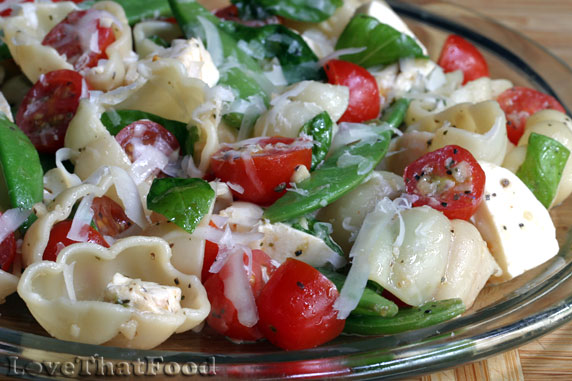 Cook Time:
7-10 minutes (for pasta)
Tips:
Salad will keep fresh in refrigerator in air-tight container for up to 1 week.
Suggestion:
Delicious served as a side dish or a light meal with a side of
bread
.
Caprese Pasta Salad is a varied version of Caprese Salad (also referred to in Italian as Insalata Caprese). Caprese Salad is typically a simple cold salad made with sliced tomatoes, sliced mozzarella cheese, and fresh basil leaves, sprinkled with olive oil and a little salt, and is often served as an anti-pasto dish. This Caprese Pasta Salad recipe combines the tomatoes, mozzarella and fresh basil with al dente gnocchi pasta and briefly steamed tender-crisp sugar snap peas. The tomatoes used with this Caprese Salad are in the form of cherry tomatoes or grape tomatoes and are halved, while the mozzarella cheese can be either chopped into bite-size pieces or
purchased in bite-size ball form (usually in the deli section of grocery stores, Trader Joe's, international and/or other specialty grocery stores). The photo above shows this healthy pasta salad made with marinated mozzarella cheese, giving the salad additional flavor. All of these colorful fresh ingredients are tossed with a light and tangy pasta salad dressing made with olive oil, minced garlic, Dijon mustard, ground basil and a small amount of soy sauce, adding fabulous flavor while making the salad glisten!
The photo above shows this pasta salad made with gnocchi pasta, which is similar to pasta shells, in that they are able to catch the ingredients inside the pasta. You can certainly use other bite-size pasta shapes, but gnocchi, orecchiette, gigli and shells work very nicely with this recipe.
This Caprese Pasta Salad can be served as a side dish or a light main course, and will stay fresh for up to a week in the refrigerator when stored in an air-tight container. If you're looking for a healthy pasta salad with vibrant color, inviting texture and fresh and satisfying flavor, this Caprese Pasta Salad will not dissapoint!
Ingredients
Salad

1 lb. sugar snap peas, stems and strings removed
1/2 lb. gnocchi, orecchiette, gigli or medium shells pasta
1 lb. grape or cherry tomatoes, halved
3/4 oz. (1 small container) fresh basil, leaves torn into bite-size pieces
8 oz. mozzarella cheese, plain or marinated (or marinated mozzarella balls)
freshly grated Parmesan or Romano cheese (for serving)



Dressing

1 tablespoon minced garlic
1/4 cup olive oil
2 tablespoons lemon juice
2 teaspoons Dijon mustard
1/2 teaspoon kosher or sea salt
1/2 teaspoon freshly ground pepper
1 teaspoon soy sauce
1/2 teaspoon dried basil
Directions
Salad
Steam sugar snap peas in a
vegetable steamer
over salted boiling water for 3-4 minutes or just until tender-crisp. (Note: Place the vegetable steamer with the sugar snap peas in the saucepan
after
the water has already begun boiling to avoid overcooking.) While peas are steaming, prepare a large bowl of ice water and have ready by the stove. Once cooked, Immediately drain the peas and immerse them into the ice water to quickly stop the cooking process. Set aside and allow to continue cooling in ice water.
Cook pasta according to package directions. Drain and rinse under cold water.
Thoroughly drain pasta and place in a large
mixing bowl
. Add sugar snap peas, halved grape (or cherry) tomatoes and basil leaves and gently toss. Prepare dressing (recipe follows).
Dressing
Whisk together all ingredients until well-blended. Drizzle over salad ingredients and toss gently until all ingredients are coated. Serve topped with freshly grated Parmesan or Romano cheese.
Other recipes you might like: