Main Dishes
Main dishes are, of course, the "main" part of a meal.
Main dishes are usually served with one or more complimentary side dishes, but can also be served by themselves on occasion, when more than one food group is contained in a main dish recipe. For your convenience, most main dish recipes on this website suggest items you can serve on the side (located aside or below each recipe photo), but you can also browse around and select your own side dish(es) simply by clicking on the "Side Dish" link or any other recipe category link. Main dishes are often served in the form of pasta dishes, casseroles, salads, meat, soups, pizzas and more. Below you will find some main dish categories to get you started on your search. Happy browsing!
Main Dish Recipe Categories ▼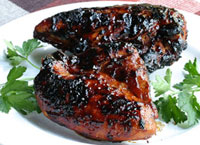 When the weather permits, what could be better than gathering outside with your friends and family for all those tasty barbecue foods? Grilling food outdoors (and in some cases, indoors) gives food that undeniable and irresistable barbecue flavor. For a variety of BBQ recipes, including ribs, chicken, sausages, barbecued baked beans, pulled pork pandwiches, steak, grilled corn, as well as barbecue sauces, see
BBQ & Grilling
.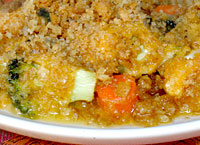 Casseroles
are a great way to prepare a meal filled with multi food groups all in one. Casserole recipes can be made with a variety of meats, vegetables, cheeses, sauces, and topped with cheese, crunchy or other toppings. The
Casseroles
page includes a variety of casserole recipes made with chicken, beef, pork, ham, tuna, potatoes and other vegetables. Some are made with cheese, while others have tasty crunchy toppings.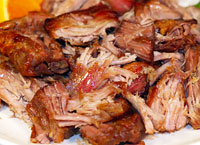 It's been said that the average family repeats the same 12 meals over and over. With the variety of meats out there and the endless ways they can be prepared and cooked, we can regularly add something new to our menu collection and add some variety to our every day lives! From basic meat, poultry and sefaood dishes to casseroles, pasta dishes, salads, soups and stews and more, you can begin your search on the
Meats
page.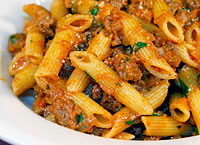 Pasta
dishes are amazingly versatile. Not only is there a huge variety of pasta shapes and flavors (such as whole grain, spinach, tomato, etc.) to use as a base for your favorite dish, you can decorate your pasta with a variety of ingredients. The
Pasta
page offers pasta recipes made with chicken, ground beef, pork and shrimp as well as cheese, pepper sauces, pesto sauce, creamy fettuccine sauce, curry sauce and pasta salads.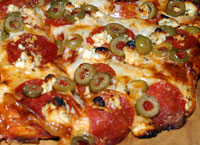 Pizza
is popular all over the world. It can be made so many ways, with any variety of toppings, and can be served for breakfast, lunch or dinner. Pizza dough also plays a huge role in the taste and texture of a pizza, and can be prepared in a variety of ways. Aside from tasting great, let's not forget how economical it is to make your own! The
Pizza
page offers recipes for pepperoni pizza, pesto pizza, chicken pizza, breakfast pizza and more.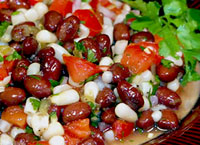 Rice and Beans
are staple foods that can make a meal complete and help to satisfy big hunger. Just like pasta, rice and beans can be decorated with a variety of flavorful and color foods, adding variety and elegance to your meal presentation. The
Rice and Beans
page includes recipes for beans from the legume family as well as the vegetable family, in case you are searching for either of these bean types.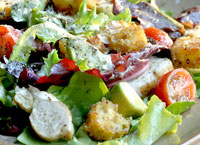 Salads
are incredibly versatile, and can be served as a side dish or in many cases the main course, depending on the size of the salad and the ingredients. On the
Salads
page, you'll find leafy green salads, pasta salads, bean salads, potato salads, vegetable salads and more. Shown here is
Garden Salad with Dijon Vinaigrette
, a leafy green salad with vibrant color made with mixed greens, cherry tomatoes, chicken and a tangy dressing.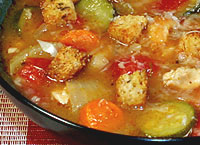 Who says we need a rainy day to treat ourselves to a tasty hot bowl of delicious
soup
? Soup is wonderful any time of year, and can be made with an endless variety of ingredients. The
Soups & Stews
page offers recipes for soups and stews, including creamy soups, potato soups, bean soups, chicken soups, cheese soup, pork soups, Mexican soups, Irish soup, Bulgarian soup and even chili. Whether it's rainy or sunny, soup is on!
Stir-Fry
dishes are all about color, texture and flavor and are traditionally a quick and easy way to whip up a delicious and healthy meal. Stir-fry recipes can be made up of any number of ingredients, including meat, seafood, vegetables, legumes and pasta. While chicken stir-fry recipes probably rank among the most popular, pork stir-fry, beef stir-fry and shrimp stir-fry dishes follow very closely behind and are just as delicious!