Side Dishes
Side dishes can consist of breads, pasta, rice, legumes, salads, soups, vegetables
and basically any food that compliments a main course. Meals can have as little as one side dish or a few, depending on how big of a feast you'd like to prepare. Many side dish recipes can also be served as the main course itself, especially when preparing vegetarian dishes or light meals, simply by serving larger portions.
Whether you're looking for vegetable side dishes, pasta side dishes, Thanksgiving side dishes, BBQ side dishes or any other type of side dish, LoveThatFood has plenty of easy side dish recipes from which to choose. The selection of side dish recipe categories below will help get you started on deciding what side dish or dishes might best compliment your meal. 
Side Dish Recipe Categories ▼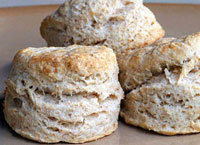 Nearly all main dishes (including meats, poultry, soups, casseroles and more) are nicely accompanied by a side of
Bread
, whether it be biscuits, breadsticks, garlic bread, crusty French bread or slices of bread topped with any number of flavorful toppings. Shown in this photo are
Whole Wheat Biscuits
, which are a similar to
Flaky Buttermilk Biscuits
. Visit the
Bread
page and see how easy it is to whip up some homemade bread!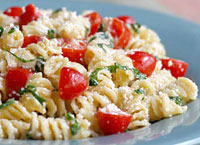 As an alternative or in addition to a side of bread, main courses can be accompanied by a side of
Pasta
. Pasta recipes can be made using any variety of pasta shapes, including spaghetti, linguine, fettuccine, shells, bow-tie-pasta or fusilli (cork screw-shaped), as shown here in
Fusilli with Ricotta and Cherry Tomtatoes
. Pasta can be made simple with just a few ingredients, or more elaborate with a mixture of colorful ingredients.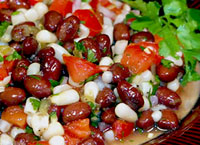 Rice and Beans
are staple foods that can make a meal complete and help to satisfy big hunger. Just like pasta,
Rice and Beans
can be decorated with a variety of flavorful and color foods, adding variety and elegance to your meal presentation. Shown here is
Black Bean and Corn Salsa
, which is great served alongside a variety of main dishes, and can be used as a side dish or as a salsa spooned over meats or with tortilla chips.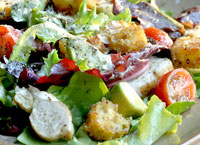 Salads
are incredibly versatile, and can be served as a side dish or in many cases the main course, depending on the size of the salad and the ingredients. On the
Salads
page, you'll find leafy green salads, pasta salads, bean salads, potato salads, vegetable salads and more. Shown here is
Garden Salad with Dijon Vinaigrette
, a leafy green salad with vibrant color made with mixed greens, cherry tomatoes, chicken and a tangy dressing.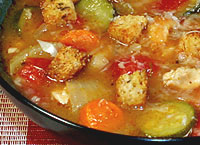 Who says we need a rainy day to treat ourselves to a tasty hot bowl of delicious
soup
? Soup is wonderful any time of year, and can be made with an endless variety of ingredients. The
Soups & Stews
page offers recipes for soups and stews, including creamy soups, potato soups, bean soups, chicken soups, cheese soup, pork soups, Mexican soups, Irish soup, Bulgarian soup and even chili. Whether it's rainy or sunny, soup is on!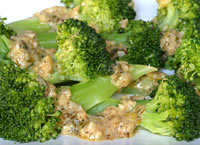 Vegetables
don't need to be the same old thing day after day. It's so easy to add some flavor and excitement to vegetables with the assistance of a few ingredients and minimal effort. On the
Vegetables
page offers recipes for broccoli (as seen here with
Broccoli Vinaigrette
), potatoes (baked, mashed or casserole style), corn, squash, beans, asparagus, carrots, cauliflower and more!