Candy
Candy is always a festive and fun treat serve at holiday gatherings, birthdays or other
special events and can also serve as a great gift. Though, why wait for a special event or holiday to enjoy something as sweet and delicious as candy? Most candy recipes are very easy to make, and don't take long to prepare. This page offers a variety of candy recipes, including candy made with chocolate, such as chocolate covered strawberries, chocolate covered caramels, caramel chocolate bars, chocolate peanut butter crispies and s'more bars, as well as candy made with caramel and butterscotch, cereal and popcorn. This page clearly has plenty of room in which to grow, so please stay tuned as my search for delicious candy recipes continues...
Candy Recipes ▼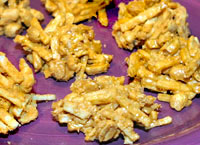 Butterscotch Haystacks
are easier than ever to make and have an irresistable sweet and salty flavor that everyone will love! These butterscotch candies feature shoestring potatoes (crunchy long, thin potato snacks that taste like potato chips), salted peanuts and a bag of butterscoth morsels. Simply melt down the butterscotch morsels, then stir in the shoestring potatoes and peanuts and form into individual clumps that look like haystacks!
These
Caramel Chocolate Bars
are a cross between a cookie and a candy, combining three layers of melt-in-your-mouth goodness! The bottom layer is made of a buttery and crumbly shortbread that will satisfy the cookie lover in you. The shortbread is topped with a delicious and easy to make homemade caramel. The shortbread and caramel layers are dipped into melted chocolate, then cooled. Makes plenty!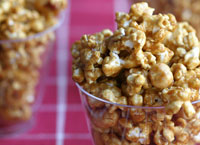 This
Caramel Corn recipe
(also called caramel popcorn) is so easy to make. Once you've tried this homemade caramel corn recipe and realize how delicious it is and how much money you save by making your own, you'll never need to add the prepackaged kind to your grocery cart again. By making homemade caramel popcorn, you'll also have the advantage of eating it warm, right out of the oven, which is incredibly tasty!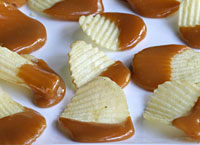 Looking for a super easy fun appetizer or snack for kids and/or caramel and potato chip lovers of all ages? These
Caramel Dipped Potato Chips
are easy to make, taste amazing, and will make plenty! All you need to whip up a batch of these Caramel Dipped Potato Chips is a regular size (about 12 oz.) bag of potato chips with ridges (such as Ruffles), and a few simple ingredients to make your own homemade caramel. Irresistable!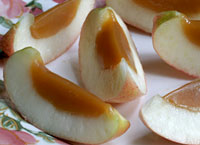 This
Caramel Filled Apples recipe
adds that fabulous caramel flavor to apples without the fuss of trying to bite through the caramel to get to the apple! This recipe is also very easy, and is the perfect fruit snack or fruit dessert for parties, kids' parties, holidays, and of course, anytime! These
Caramel Filled Apples
come with an easy homemade caramel recipe that can also be used as caramel dip if you're looking to save a little time.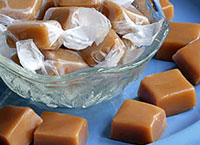 You don't need to be a candy expert to make a delicious batch of chewy caramels. You can easily make your own Caramels with this fun and easy
homemade Caramels candy recipe
. It's just a matter of heating a few ingredients in a saucepan for about 30 minutes until the mixture transforms into a golden amber color. The mixture is poured into a pan, cooled and cut into any shapes you prefer.