Candy
Candy is always a festive and fun treat serve at holiday gatherings, birthdays or other
special events and can also serve as a great gift. Though, why wait for a special event or holiday to enjoy something as sweet and delicious as candy? Most candy recipes are very easy to make, and don't take long to prepare. This page offers a variety of candy recipes, including candy made with chocolate, such as chocolate covered strawberries, chocolate covered caramels, caramel chocolate bars, chocolate peanut butter crispies and s'more bars, as well as candy made with caramel and butterscotch, cereal and popcorn. This page clearly has plenty of room in which to grow, so please stay tuned as my search for delicious candy recipes continues...
Candy Recipes ▼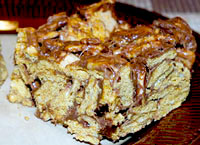 This simple and delicious
S'more Bars recipe
entertains the flavors of S'mores (combining the words, "Some More", likely meaning once you eat one, you will want some more!), treats made with roasted marshmallows and milk chocolate sandwiched in between two graham crackers. This bar recipe will produce a large number of servings in much less time, without everyone having to wait their turn around the campfire!