Candy
Candy is always a festive and fun treat serve at holiday gatherings, birthdays or other
special events and can also serve as a great gift. Though, why wait for a special event or holiday to enjoy something as sweet and delicious as candy? Most candy recipes are very easy to make, and don't take long to prepare. This page offers a variety of candy recipes, including candy made with chocolate, such as chocolate covered strawberries, chocolate covered caramels, caramel chocolate bars, chocolate peanut butter crispies and s'more bars, as well as candy made with caramel and butterscotch, cereal and popcorn. This page clearly has plenty of room in which to grow, so please stay tuned as my search for delicious candy recipes continues...
Candy Recipes ▼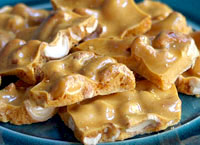 This
Cashew Brittle recipe
has a light crispiness and a sweet and salty flavor that is dangerously addicting! If you have never made candy before, this is a great place to start, because this recipe whips up in about 5 minutes on the stove, and no candy thermometer is needed! Once you try this recipe for homemade Cashew Brittle, you may never go back to packaged peanut brittle. These glossy amber-colored candies will deliver!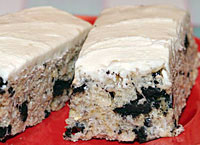 If you enjoy Rice Krispy Treats and Oreos,
Chocolate Cookie Crispies
will have you dancing the happy dance! This bar / cookie / candy (could likely fit all these categories) recipe features puffed rice cereal, mixes it with marshmallows and broken bits of chocolate sandwich cookies (such as Oreos), and tops it off with an icing that is much like the filling you find in sandwich cookies. The frosting is optional, though fabulous!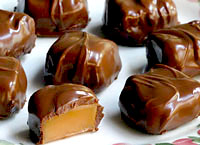 If you love the flavors of caramel and chocolate, then this
Chocolate Covered Caramel recipe
is one you will not want to pass up! Homemade caramels have a flavor, texture and freshness that far surpass the pre-packaged caramel and chocolate-flavored candies you'll find in stores. The amber-colored chewy caramel interior is full of powerful caramel flavor and is surprisingly easy to make. May be coated with milk or semi-sweet chocolate.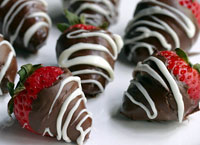 The beauty of
Chocolate Covered Strawberries
is how elegant and delicious they are, and how easy they are to make! You can also coat these Chocolate Covered Strawberries with any variety of toppings (see
recipe
for pictures of examples), such as crumbled peanuts, cornflakes, granola or other cereal, or even crumbled cookies such as Oreos, giving them that Cookies & Cream flavor.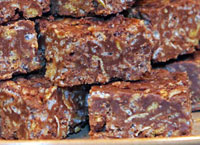 Chocolate Peanut Butter Crispies
are sweet and crispy little squares of chocolately and peanut buttery goodness. This bar recipe incorporates the light and chewy crunch that comes with Rice Krispie Treats and the delicious chocolate and peanut butter flavors of peanut butter cups, resulting in an irresistible treat that screams, "More!" This quick and easy candy (or bar) recipe requires no baking - simply heat, mix and chill!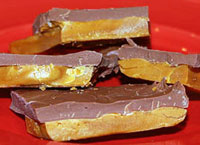 This
English Toffee recipe
is one of the easiest candy recipes to make, and will truly give you a melt-in-your-mouth experience. The bottom layer is a crunchy and buttery candy, while the top is a simple coat of chocolate (very dark, semi-sweet or milk chocolate can be used). If you like nuts, you can sprinkle some over the top before the chocolate has cooled (such as chopped pecans, cashews, peanuts, etc.).