English Toffee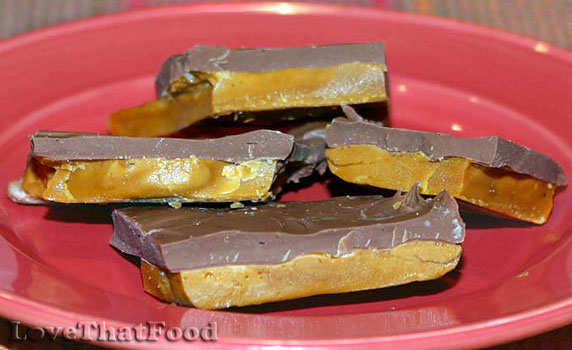 Yield:
About 40 pieces (or 2 8x8" squares)
Tips:
Sprinkle your favorite crumbled nuts over melted chocolate before it hardens. If chocolate separates from the candy when breaking into pieces, simply re-melt those chocolate pieces in the microwave and reapply them to the candy.
This English Toffee recipe is one of the easiest candy recipes to make, and will truly give you a melt-in-your-mouth experience. The bottom layer is a crunchy and buttery candy,
while the top is a simple coat of chocolate (very dark, semi-sweet or milk chocolate can be used). If you like nuts, you can sprinkle some over the top of the chocolate while it is still in the melted state (almonds are popularly used with this candy, but you can use any kind of nuts you prefer).
The magic happens on the stove while cooking the butter, sugar and vanilla together. It just requires some stirring for 10-15 minutes, or until the mixture thickens and turns golden amber in color. The amber mixture is then poured into a sheet of prepared aluminum foil. The top chocolate layer is created by placing chocolate pieces on top of the warm candy, and spreading the chocolate as it melts. The candy will harden at room temperature in a short time, and will be ready to break apart into candy bar-size pieces to be devoured!
Ingredients
2 sticks butter
1 1/3 cups granulated sugar
3 tablespoons water
1 teaspoon vanilla extract
1 1/2 cups chocolate chips or chocolate bar(s) broken into small pieces
1/2 cup nuts (optional)
Directions
Line a baking sheet with heavy duty aluminum foil or simply form the aluminum foil into a 16" square and fold up the sides to a 1" height. Butter the aluminum foil and set aside.

Add butter, sugar and water to a medium saucepan and turn heat to medium high. Bring mixture to a bubbling boil and cook, stirring constantly, for about 10 minutes. Continue cooking until mixture turns into a dark golden brown (or if you have a candy thermometer, heat until temperature reaches 300 degrees). Once the color begins to darken, be ready to remove from heat, because the mixture can get scalded very quickly once it turns dark.

As soon as mixture has turned a dark golden brown, remove from heat and stir in the salt and vanilla. Poor into 8x8 foil and smooth (rubber spatulas work well) to make it even and to create desired thickness (1/4" is a good thickness (as seen in photo above).

After the mixture cools slightly, poor chocolate chips over the top and spread around to help the melting process. Once chocolate is evenly coated over the candy, let sit at room temperature until candy is completely cool and chocolate is hardened.

Break into pieces and store in air-tight container at room temperature or in refrigerator for up to one month.
Other recipes you might like: