Butterscotch Haystacks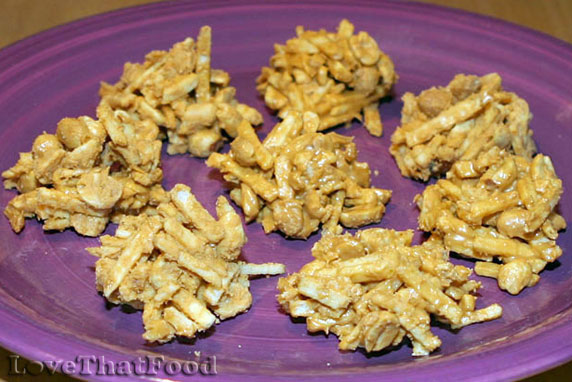 Candy recipes don't get much easier than this! These addicting melt-in-your-mouth
crunchy, sweet and salty Butterscotch Haystacks are made with three simple ingredients - butterscotch chips (or morsels), shoestring potatoes and peanuts. The only cooking required with this recipe is for melting the butterscotch chips, which takes only a minute or so either in the microwave or a double boiler (you can also melt the butterscotch chips in a heat-resistant boil over a small saucepan of water). Once the butterscotch morsels are melted, simply stir in the shoestring potatoes and peanuts and form into little mounds on some wax paper. Once the butterscotch sets, you've got some great candy that no one will be able to resist! Butterscotch Haystacks are perfect to serve at parties, and are most definitely kid-approved!
Ingredients
1 12-oz bag butterscotch chips
1 12-oz can peanuts
1 4-oz can shoestring potatoes
Directions
Melt butterscotch chips in microwave, stirring every 30 seconds until completely melted and smooth. Blend in peanuts and shoestring potatoes. Drop by teaspoon-fulls on parchment or wax paper. Let sit for 1/2 to 1 hour, or until set.
Other recipes you might like: