Caramel Chocolate Bars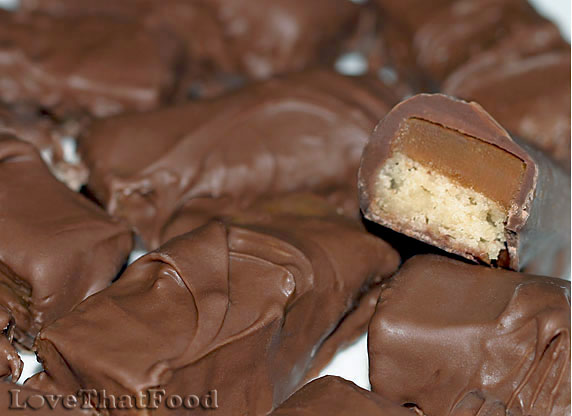 Yield:
About 50 3x3/4-inch candy bars.
Tips:
A
Scraper/Chopper
or a large pizza cutter wheel works well for cutting shortbread into candy bar shapes. If using knife, wipe clean in between cuts with a damp paper towel.
This Caramel Chocolate Bars recipe combines three irresistible flavors and textures that taste amazing together. The bottom layer is made of a buttery and crumbly shortbread that will satisfy the cookie lover in you. The shortbread is
topped with a delicious and easy to make homemade caramel. Of course, to top off this glorious indulgence, once the caramel cools and firms up, the shortbread and caramel layers are dipped into melted chocolate, then cooled to become the little beauties shown above. This fun and delicious candy recipe will make plenty but will not last long!
These chocolate candy bars are similar to Millionaire Shortbread Bars, in that they are both made with chocolate, shortbread and caramel. Millionaire Shortbread Bars are topped with semi-sweet chocolate and cut into bars, thus fall into the cookie bar recipe category. Photo shows these candy bars made with milk chocolate, though you can make them with semi-sweet or any other dark chocolate as well. These Chocolate Caramel Bars are very similar to Twix candy bars, yet have that unmistakable fresh homemade flavor, and will definitely give you more candy for your money!
Ingredients
Shortbread

1 cup (2 sticks) butter (room temperature)
1 cup confectioner's (powdered) sugar
2 teaspoons vanilla extract
2 cups all-purpose flour



Caramel

1/2 cup (1 stick) butter
2 tablespoons corn syrup
1/2 cup brown sugar
1/2 cup sweetened condensed milk



Chocolate

3 cups milk (or semi-sweet) chocolate chips or chopped milk (or dark) chocolate
1 tablespoon butter (if needed)
Directions
Shortbread
Preheat oven to 300°F. Spray a 9 x 13-inch baking pan with nonstick spray. Set aside.
In an electric mixer bowl, beat together the butter, sugar and vanilla until smooth and creamy. Add flour and mix on low speed until fairly blended, then increase speed to medium and continue to mix until thoroughly blended.
Transfer the mixture to the baking pan and gently press evenly into the pan. Poke numerous holes all over top of crust with a fork to allow steam to escape during baking process (this will help to prevent bubbles from forming).
Bake the shortbread until the top turns light golden in color and the edges turn a deeper golden brown in color (about 30-40 minutes). Remove from the oven and immediately run a knife or a thin flat metal spatula around the edges to loosen the crust from the sides of the pan. Set aside and allow to cool completely.
Caramel
In a medium saucepan, add all caramel ingredients and bring to a boil, stirring constantly. Reduce heat to medium-high and cook for about 5 minutes, stirring constantly. Once mixture is creamy and has turned amber in color, remove from heat and pour over cooled shortbread. Use the back of a spoon to evenly smooth over entire top of shortbread. Refrigerate for about 30 minutes to set caramel.
After caramel has set, cut shortbread caramel mixture into 3 sections lengthwise (about 3 inches-wide each), then cut those 3 sections in half crosswise. Using a flexible thin metal spatula, carefully scoop up each section separately and place on a cutting board. To cut into candy bar shapes, cut each 3-inch section into strips (about 3/4 inches wide each). Set aside near the stove while you melt the chocolate. (Tip: Using a Scraper/Chopper or a large pizza cutter wheel works very well. If using a knife, wiping the knife clean with a damp paper towel will make your cuts more exact.)
Chocolate
Place a large sheet of wax or parchment paper near stove.
To heat chocolate, place about 1-2 inches of water in a saucepan, and place chocolate in top section of double boiler on top of saucepan (if you don't have a double boiler, you can use a bowl that is slightly larger than the saucepan instead). Heat water over low-medium heat, and frequently check to see if the chocolate can be stirred. (Note: The trick to successfully heating chocolate is to heat it slowly, and to not overheat. Keep the water level low enough that it does not touch the upper pan or bowl, because that will cause too much heat. As long as you heat the chocolate slowly over low heat, you will be fine.) If chocolate seems a bit too thick, stir in the 1 tablespoon butter.
As soon as the chocolate is able to be stirred into a creamy consistency, using 2 forks, lift one shortbread caramel bar at a time and dip into chocolate, turning to coat all surfaces. Transfer each chocolate-coated bar to wax paper to cool. (This process will get easier as you get the hang of it.) Allow candy bars to cool at room temperature until chocolate sets (30 minutes or more).
Other recipes you might like: