Kitchen Supplies
Just as a good set of tools can help a carpenter get the job done more quickly and accurately and with less frustration, kitchen cooks benefit substantially from a good set of essential kitchen supplies. While restaurant kitchens are often stocked with the best commercial kitchen equipment available, home kitchen cooks can also turn their kitchens into a highly functional, productive and
inspiring environment, simply by stocking them with some helpful kitchen equipment. The list of kitchen equipment displayed on these Kitchen Supplies pages includes cooking supplies, baking supplies, kitchen gadgets, cookware and other kitchen equipment that will help make your experience in the kitchen a more efficient and enjoyable one. These kitchen supplies represent those I already own or would personally purchase if I were ready to upgrade, but there are certainly plenty of brands and styles from which to choose to suit your own personal needs, taste and budget. If you are shopping for one of the items shown below or would simply like to view more information, you can do so by clicking any of the image or text links for each item. If you're looking to save time, you can also immediately purchase any item shown simply by clicking the "buy now" button in the pop-up windows that appear when you hover over any image or text link. New kitchen supplies are added to these pages regularly, so please visit again soon for new kitchen equipment ideas!
Kitchen Supplies ▼
If you love tender and succulent roasted meat as well as the gravy or sauce you can make from the dripped juices, a roasting rack is something you definitely need in your kitchen. Roasting racks allow you to cook your meat slightly above the bottom of a roasting pan, allowing the juices to drip to the bottom of the pan to be used for gravy and sauces once your meat is cooked.
More Information:
Roasting Rack
Once you have a salad spinner, you'll wonder how you ever survivied without it! Lettuce, spinach and fresh herbs are quickly and easily cleaned by rinsing in the salad basket, then with a few presses of the button, the greens are spun dry. This salad spinner has a non-slip ring on the bottom that holds it steady. This spinner measures 10 by 10 by 7.2 inches and is top-rack dishwasher safe.
More Information:
Salad Spinner
This handheld tool is great for slicing, chopping, scraping, mincing and scooping. It makes it easy to scoop up and transfer chopped foods to your cooking pan or simply scoop up tiny crumbs. These scraper/chopper tools are especially great for slicing bread and pizza dough when the dough needs to be divided. This Scraper/Chopper has a 6" ruler, allowing for accurate measuring.
More Information:
Stainless Steel Scraper/Chopper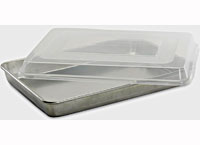 Sometimes the thought of making a layer cake seems like a little too much trouble. That's when a sheet cake pan comes in handy! You can pour all the cake batter into the pan, bake, then simply frost the top. This particular sheet cake pan also comes with a lid to keep your cake moist. You can also use this pan for baking brownies, such as
Buttermilk Brownies
and bars.
More Information:
Sheet Cake Pan with Lid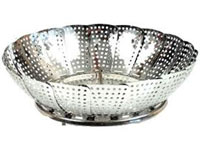 Vegetable steamers are wonderful for cooking all sorts of vegetables, including green beans, broccoli, zucchini, cauliflower, and the list goes on! Using a steamer allows you to quickly cook vegetables with steam rather than completely immersing in water, stir-frying with oil or microwaving. Vegetable steamers allow you to cook vegetables without the need for stirring.
Whisks are used for stirring liquids as well as dry ingredients, and can more quickly and thorougly blend ingredients than spoons or forks. They are particularly useful for stirring gravies and sauces because they are able to break apart lumps and chunks, helping to achieve smoother consistencies. Whisks come in varied shapes and sizes, as well as in stainless steel or teflon coated.
More information:
Balloon Wire Whisk