Pizza
Pizza is popular all over the world. It can be made so many ways, with any variety of toppings, and can be served for breakfast, lunch or dinner. you'll even find a pizza recipe for a pizza loaf (pizza ingredients cooked into homemade bread).
Pizza dough also plays a huge role in the taste and texture of a pizza, and can be prepared in a variety of ways, such as thick or thin, with white or whole wheat (or other) flour, with or without herbs or other ingredients, etc. While it is tempting to purchase a ready-made pizza dough from the grocery store, you might want to reconsider, because making homemade pizza dough is much easier than you would think. If you have flour, you can make your own pizza dough, with or without a bread machine. Aside from the understanding the homemade pizza tastes incredible, let's not forget to mention how much money you save by making your own! As for leftovers, what could be better than grabbing a cold slice of pizza from the fridge for breakfast the following morning? Below you'll find a few pizza recipes (as well as recipes for pizza dough) for starters.
Pizza Recipes ▼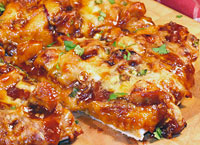 For those of you who are lovers of everything barbeque, this
BBQ Chicken Pizza recipe
is for you! All you need for this tasty pizza is a bottle of your favorite smoky barbeque sauce, some cooked chicken, mozzarella and smoky cheddar cheese, red and green onions, fresh cilantro and a few items from your pantry. This recipe also comes with an easy homemade pizza dough recipe if you'd like to make your own.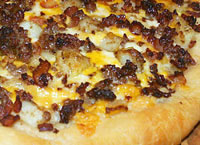 Breakfast Pizza
is a fun and delicious way to serve breakfast! It's also great for brunches or events that take place before lunchtime.
Breakfast Pizza
features eggs lightly scrambled with mild green chilies, crumbled breakfast sausage, bits of bacon, potatoes sautéed with onion and garlic, combined with two kinds of cheeses. All these ingredients rest on top of a homemade basic pizza dough recipe.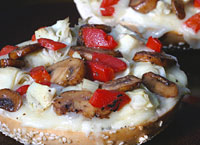 These
Cheese and Vegetable Pizza Bagels
begin with your choice of bagels. A tasty cream cheese spread seasoned with fresh minced garlic and herbs is spread on the bagel slices. Shredded mozzarella cheese. along with sliced mushrooms that have been sautéed in seasoned butter and balsamic vinegar, bite-size pieces of artichoke hearts and roasted red bell peppers are arranged on top, and the pizza bagels are briefly baked.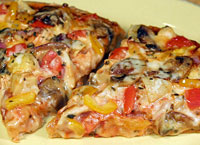 This colorful
Chicken & Vegetable Pizza recipe
features shredded chicken, marinated artichoke hearts and chopped tomato, together with sauteed sweet yellow bell peppers, sliced red onions and mushrooms resting on a bed of mozzarella cheese over homemade pizza dough made with a mixture of whole wheat and all purpose flour, as well as some crushed toasted corn cereal for added texture and flavor.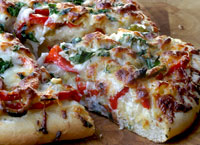 This unique and colorful
Lemon Cheese Pizza
features
homemade pizza dough
that is brushed with olive oil and sprinkled with lemon zest (optional). Slices of lemon, red bell pepper, jalapeno pepper and garlic are briefly sautéed, then arranged on the pizza dough. A blend of 3 or 6 shredded Italian cheeses is then arranged over the top of the sautéed ingredients and some chopped fresh Italian parsley is sprinkled over the top of the cheese.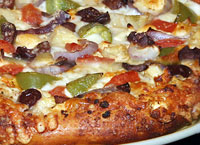 Mediterranean Pizza
is a vegetarian-style pizza recipe featuring a combination of colorful and distinctively flavored ingredients that bring to the table lively and fabulous flavor! This Greek-style pizza entertains bite-size chunks of artichoke hearts, Kalamata (Greek) olives, thinly sliced red onion, chopped tomato and chopped green pepper with a blend of three cheeses - feta cheese, Parmesan cheese and mozzarella cheese.