BBQ Chicken Pizza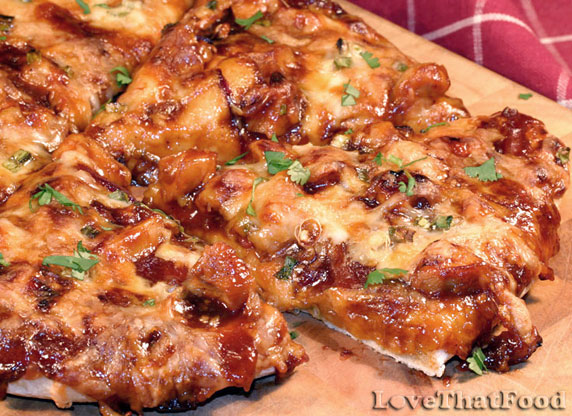 Yield:
1 large or 2-4 individual pizzas
Tips:
To make this a super-quick dish, simply purchase some pre-cooked chicken (deli, frozen or canned) and some ready-made pizza dough (though if you have a little time, making your own dough is well worth it!).
Suggestion:
Great served with a salad.
For those of you who are lovers of everything barbeque, this BBQ Chicken Pizza recipe is one you will want to add to your menu. All you need to make this tasty pizza is a bottle of your favorite smoky barbeque sauce, some cooked chicken, mozzarella and smoky cheddar cheese, red and
green onions, fresh cilantro and a few items from your pantry, and you're set! Chunks of chicken are briefly cooked in a skillet with the BBQ sauce along with a small amount of brown sugar, honey and molasses, then this BBQ chicken mixture is spread on top the pizza dough.
The pizza dough is homemade, and is incredibly easy to make. All you need is a little time to let the dough rise a couple times (about 1 hour, 15 minutes). Once you realize how fun and easy it is to make your own pizza dough, you will probably start getting more creative with creating more varieties of customized pizzas. By making your own dough, you can create any size pizza you want, whether it be one large or individual serving sizes. Another advantage to making your own pizza dough is that you can add any of your favorite herbs and seasonings, which will give the pizza more flavor overall.
Ingredients
Pizza Dough

3/4 cup plus 2 tablespoons lukewarm water
1 tablespoon (or 1 package) active dry yeast
1 teaspoon salt
1 tablespoon extra virgin olive oil
2 3/4 cups all-purpose flour, plus additional for dusting



Pizza Topping

3 boneless, skinless chicken breast halves, cooked and cubed
1 cup smoky (hickory or mesquite) flavored BBQ sauce
2-3 drops liquid smoke
1 tablespoon honey
1 teaspoon molasses
1 tablespoon brown sugar
2/3 cup grated mozzarella cheese
1/3 cup grated smoked cheddar cheese
1 cup thinly sliced red onion
1/4 cup thinly sliced green onion
1/4 cup chopped fresh cilantro
Directions
Pizza Dough
See Pizza Dough recipe and follow directions for Basic Pizza Dough, using any preparation method you prefer.
Pizza
Preheat oven to 425° F.
In a small mixing bowl, whisk together BBQ sauce, liquid smoke, honey, molasses and brown sugar. Place cooked, cubed chicken in a large skillet with BBQ sauce mixture and bring to a low boil over low-medium heat, stirring frequently. Once boiling, remove from heat and allow to cool for about 2-3 minutes, then evenly spread over top of prepared pizza dough. (Note: If you prefer less BBQ sauce on your dough, simply decrease the amount you place on the dough by allowing some to drip back into the skillet when lifting chicken.) Top with cheeses, then sliced red and green onions. Bake for 15-25 minutes or until crust is crisped and golden and cheese is bubbling. Remove from oven and sprinkle with freshly chopped cilantro.
Other recipes you might like: