Appetizers and Snacks
Appetizer and snack recipes (also referred to as snacks, finger food, party food, hors d'oeuvres and canapés) are almost always easy to make and can be made with almost any food imaginable. They c an be mild or spicy, hot or cold, made with meat or vegetarian style, and in many cases require little or no refrigeration. Appetizers can be prepared in endless ways, and can be served for most any occasion, whether it be a holiday, party or social event,
and can cater to a small group or a large crowd. They can also simply be made as tasty snacks for your family or friends anytime. Some appetizers can even be served as a side dish to a main course or as the main course itself. Below you will find a collection of my personally tested favorite appetizer and snack recipes that have been a huge hit at parties, holidays and other events.
When you click on any of these appetizer recipes, you will be taken to LoveThatFood's sister website,
EndlessAppetizers.com
, where all the appetizer recipes have been broken down into convenient categories to help make your search for the perfect appetizer much easier. EndlessAppetizers.com will open in a separate new window, allowing you to continue browsing recipes on LoveThatFood.com. On these appetizer pages, you'll find recipes for cheese appetizers, egg appetizers, bread appetizers, meatball appetizers, pastry appetizers, vegetable appetizers, dips and salsa, appetizers for kids and more. New appetizer recipes will be added often, so please visit these pages again soon or visit EndlessAppetizers.com!
Appetizer Recipes ▼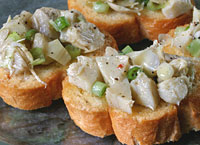 If you're looking for party food ideas that include easy cold appetizers for a crowd,
Artichoke Bruschetta
will certainly deliver! These light and tasty artichoke appetizers, although called "Artichoke Bruschetta," can also be called Artichoke Crostini, because the two terms are so similar. The topping for this Artichoke Bruschetta is so simple, yet full of fabulous flavor and freshness, and takes just a few minutes to prepare!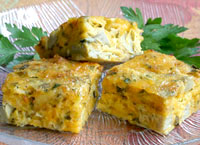 Artichoke Frittatas
are delicious little egg squares made with egg, cheddar cheese, marinated artichoke hearts, green onions, garlic, parsley and crumbled flaky crackers. These egg snacks are similar to quiche, though have a firmer and chewier texture, making them perfect as appetizers or as a side or main dish for breakfast or brunch. Artichoke Frittatas are delicious served hot from the oven or chilled.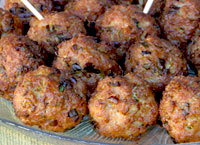 These
Asian Meatballs
are incredibly easy to make and cook in just 2-3 minutes! They're crispy on the outside and tender, hot and steamy on the inside, making them a fun and very tasty appetizer. As with most all meatball recipes, this Asian Meatball recipe can be made as a main course, simply by making the meatballs slightly larger and adding your favorite Asian style sauce and serving them over rice and perhaps with vegetables.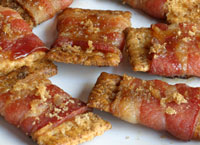 If you love bacon and are looking for easy appetizer recipes, these
Bacon Wrapped Crackers
are a fabulous idea! This appetizer recipe features wafer style crackers that are wrapped in bacon, then baked until the bacon crisps. The bacon wrapped crackers can also be topped with small amounts of brown sugar or honey before baking, giving these irresistble snacks a wonderful flavor combination of sweet and salty!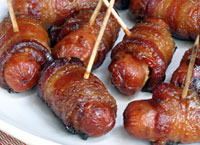 If you've never tried
Bacon-Wrapped Little Smokies
(also known as lit'l smokies, 'lil smokies or cocktail weenies), you're in for a real treat! The little smokies are wrapped in strips of bacon that have been cut into thirds, then secured with toothpicks and sprinkled generously with some brown sugar (you can adjust the sugar to your own preference for sweetness). Simply pop in the oven and bake until the bacon is crisp and serve!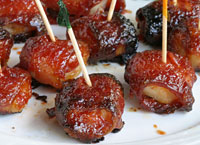 Bacon Wrapped Water Chestnuts
are easy to make, and are loved by all ages! This fun appetizer features whole water chestnuts, each wrapped with 1/3 cuts of bacon slices. The bacon wrapped water chestnuts are baked for 30 minutes, then topped with an easy sweet and sour sauce, then returned to the oven for another 30 minutes or until they crisp. These appetizers are great for parties and are truly delightful!