Appetizers and Snacks
Appetizer and snack recipes (also referred to as snacks, finger food, party food, hors d'oeuvres and canapés) are almost always easy to make and can be made with almost any food imaginable. They c an be mild or spicy, hot or cold, made with meat or vegetarian style, and in many cases require little or no refrigeration. Appetizers can be prepared in endless ways, and can be served for most any occasion, whether it be a holiday, party or social event,
and can cater to a small group or a large crowd. They can also simply be made as tasty snacks for your family or friends anytime. Some appetizers can even be served as a side dish to a main course or as the main course itself. Below you will find a collection of my personally tested favorite appetizer and snack recipes that have been a huge hit at parties, holidays and other events.
When you click on any of these appetizer recipes, you will be taken to LoveThatFood's sister website,
EndlessAppetizers.com
, where all the appetizer recipes have been broken down into convenient categories to help make your search for the perfect appetizer much easier. EndlessAppetizers.com will open in a separate new window, allowing you to continue browsing recipes on LoveThatFood.com. On these appetizer pages, you'll find recipes for cheese appetizers, egg appetizers, bread appetizers, meatball appetizers, pastry appetizers, vegetable appetizers, dips and salsa, appetizers for kids and more. New appetizer recipes will be added often, so please visit these pages again soon or visit EndlessAppetizers.com!
Appetizer Recipes ▼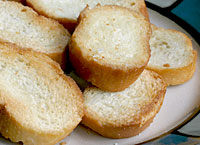 Baked Crostini
(also sometimes referred to as Bruschetta or Canapé when topped with savory foods) are miniature slices of toasted (or baked) bread, typically made from baguettes (long, thin loaves of French bread). Served as an appetizer, they can be used as a base for an endless variety of food toppings or as a cracker-style snack for dips. Crostini are wonderful for social events, holidays, parties or anytime snacking.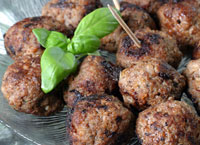 This easy meatball recipe features cocktail meatballs made with a combination of lean ground beef and ground pork, some Holland Rusk toast crumbs soaked in water and whipping cream, along with a some fresh basil leaves (or dried basil), garlic powder, cayenne pepper and salt and pepper.
Basil Meatballs
may also be made with other ground meats, and may be made as a main course with pasta and pasta sauce.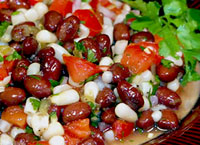 Black Bean and Corn Salsa
is a vibrant and healthy salsa recipe that tastes delicious with
Tortilla Chips
,
Crostini
or other crunchy dipping snacks. While most salsa recipes contain tomatoes and/or tomato sauce, onion and cilantro, this festive salsa recipe combines black beans, kernel corn, tomatoes, red bell pepper, diced green chiles and fresh chopped cilantro, giving it unique and delightful flavor and texture, not to mention vibrant color!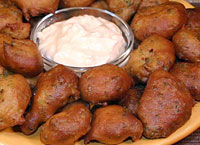 This
Broccoli Puff recipe
features puffy random-shaped hand-size morsels made with a quick and easy dough filled with finely chopped broccoli florets and a hint of hot pepper sauce. These broccoli appetizers are deep-fried, giving them a light and crispy outer shell and a light and fluffy interior. Broccoli Puffs are served warm with a mildly creamy, tangy dipping sauce that gets its zing from lemon juice, horseradish and hot pepper sauce.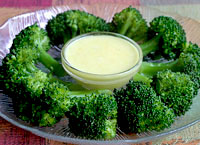 Broccoli with Hollandaise Sauce
can be served as a side dish or as an elegant appetizer for parties and events, and is a delicious way to add flavor and texture to this popular vegetable. The easy Hollandaise Sauce recipe is made with lightly seasoned egg yolks and butter briefly cooked together over low heat, and is flavored with a hint of lemon, giving the perfect complimentary flavor to crisp-tender broccoli florets.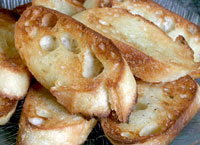 Broiled Crostini
(small toasted slices of bread used for topping with various ingredients to be served as appetizers) produces a different result than
Baked Crostini
, though both can be used for the same purpose. With Broiled Crostini, the slices of bread are cooked more quickly under direct heat, and the crunchiness tends to be contained more on the surface of the bread, while the chewiness is still retained on the inside.