Appetizers and Snacks
Appetizer and snack recipes (also referred to as snacks, finger food, party food, hors d'oeuvres and canapés) are almost always easy to make and can be made with almost any food imaginable. They c an be mild or spicy, hot or cold, made with meat or vegetarian style, and in many cases require little or no refrigeration. Appetizers can be prepared in endless ways, and can be served for most any occasion, whether it be a holiday, party or social event,
and can cater to a small group or a large crowd. They can also simply be made as tasty snacks for your family or friends anytime. Some appetizers can even be served as a side dish to a main course or as the main course itself. Below you will find a collection of my personally tested favorite appetizer and snack recipes that have been a huge hit at parties, holidays and other events.
When you click on any of these appetizer recipes, you will be taken to LoveThatFood's sister website,
EndlessAppetizers.com
, where all the appetizer recipes have been broken down into convenient categories to help make your search for the perfect appetizer much easier. EndlessAppetizers.com will open in a separate new window, allowing you to continue browsing recipes on LoveThatFood.com. On these appetizer pages, you'll find recipes for cheese appetizers, egg appetizers, bread appetizers, meatball appetizers, pastry appetizers, vegetable appetizers, dips and salsa, appetizers for kids and more. New appetizer recipes will be added often, so please visit these pages again soon or visit EndlessAppetizers.com!
Appetizer Recipes ▼
Caesar Bruschetta
is one of those incredibly easy bruschetta recipes, featuring chopped tomatoes, chopped fresh basil leaves, diced red onion and minced fresh garlic. These fresh and colorful ingredients are tossed with a high quality Caesar dressing your choice, then a small amount of the tomato mixture is scooped onto small slices of toasted bread, creating beautiful and elegant finger food appetizers your guests will love!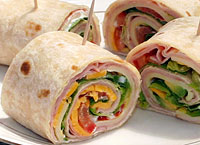 California Wraps
begin with a large flour tortilla coated with a delightful sour cream spread flavored with hints of dill and freshly squeezed lemon. Slices of turkey and ham, provolone and cheddar cheeses, ripe avocado, tomato and lettuce are then layered on top, and the tortilla is rolled up and sliced into individual servings, exposing the colorful swirl of ingredients inside. Can be served for lunch or as sandwich appetizers.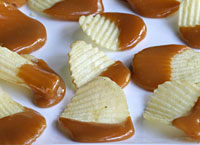 Looking for a super easy fun appetizer or snack for kids and/or caramel and potato chip lovers of all ages? These
Caramel Dipped Potato Chips
are easy to make, taste amazing, and will make plenty! All you need to whip up a batch of these Caramel Dipped Potato Chips is a regular size (about 12 oz.) bag of potato chips with ridges (such as Ruffles), and a few simple ingredients to make your own homemade caramel. Irresistable!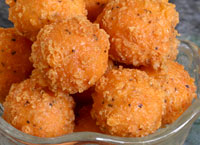 Cheddar Cheese Balls
are light and puffy, and have a delightful outer crispy coating and a golden color. These easy cheese appetizers feature any type of cheddar cheese you prefer (mild, sharp extra sharp, smoky, etc.) and couldn't be easier to make! The cheese mixture is made with a stiffly beaten egg white, which causes the cheese balls to puff and become light and airy inside, while the outer coating becomes wonderfully crispy!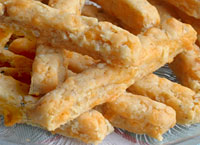 This
Cheddar Cheese Sticks recipe
couldn't be easier to make, and is great for serving at parties or events or as afternoon snacks! These homemade cheese sticks are made with a simple combination of flour, cheese, fresh bread crumbs, milk and a pinch of cayenne pepper. Simply combine, roll-out, cut into small sticks and bake! You can serve these cheese sticks alone or with a kid-friendly dipping sauce, such as
Zesty Ranch
.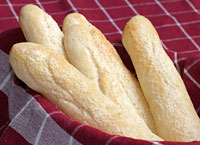 These delicious
Cheese and Garlic Breadsticks
have a very light and fluffy texture and are coated with melted butter, garlic salt and grated Parmesan cheese. They are fabulous on their own, warm, right out of the oven, or served with warm Marinara Sauce for dipping. This recipe is very easy and produces a large batch of breadsticks. Cheese & Garlic Breadsticks are great served as appetizers or as a bread side to main courses.