Appetizers and Snacks
Appetizer and snack recipes (also referred to as snacks, finger food, party food, hors d'oeuvres and canapés) are almost always easy to make and can be made with almost any food imaginable. They c an be mild or spicy, hot or cold, made with meat or vegetarian style, and in many cases require little or no refrigeration. Appetizers can be prepared in endless ways, and can be served for most any occasion, whether it be a holiday, party or social event,
and can cater to a small group or a large crowd. They can also simply be made as tasty snacks for your family or friends anytime. Some appetizers can even be served as a side dish to a main course or as the main course itself. Below you will find a collection of my personally tested favorite appetizer and snack recipes that have been a huge hit at parties, holidays and other events.
When you click on any of these appetizer recipes, you will be taken to LoveThatFood's sister website,
EndlessAppetizers.com
, where all the appetizer recipes have been broken down into convenient categories to help make your search for the perfect appetizer much easier. EndlessAppetizers.com will open in a separate new window, allowing you to continue browsing recipes on LoveThatFood.com. On these appetizer pages, you'll find recipes for cheese appetizers, egg appetizers, bread appetizers, meatball appetizers, pastry appetizers, vegetable appetizers, dips and salsa, appetizers for kids and more. New appetizer recipes will be added often, so please visit these pages again soon or visit EndlessAppetizers.com!
Appetizer Recipes ▼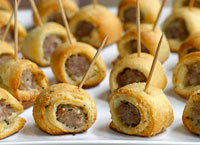 When it comes to appetizers, sometimes we need a crow d-pleasing appetizer recipe that's quick and easy, requiring very little preparation with only a few ingredients.
Cheese and Sausage Croissant Bites
fit that bill! All you need to make these sausage appetizers is a package of crescent roll dough, some brown and serve sausage links, Parmesan cheese, melted butter and dried oregano. That's it! Pop in your mouth goodness!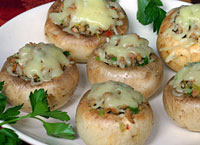 This
Cheese and Sausage Stuffed Mushroom recipe
is very easy to prepare, and produces bite-size mushroom appetizers with colorful eye appeal and full festive flavor! These tasty stuffed mushrooms are filled with a sautéed mixture of crumbled hot Italian sausage (sweet Italian sausage can be used instead, if preferred), minced garlic, diced green onions and diced mushroom stems, and some dried Italian herbs and other seasonings.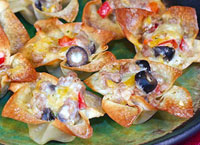 Cheese and Sausage Wonton Flowers
are not only pretty, they are very tasty! The wonton filling is made with browned and crumbled sausage, Monterey jack and cheddar cheeses, diced red bell peppers and sliced ripe olives, then combined with your choice of Chipotle Ranch Salad Dressing or Buttermilk Ranch Salad Dressing and baked in the oven for just 5 minutes. The kids will really enjoy helping you make these appetizers.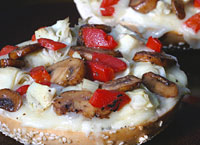 These
Cheese and Vegetable Pizza Bagels
begin with your choice of bagels. A tasty cream cheese spread seasoned with fresh minced garlic and herbs is spread on the bagel slices. Shredded mozzarella cheese. along with sliced mushrooms that have been sautéed in seasoned butter and balsamic vinegar, bite-size pieces of artichoke hearts and roasted red bell peppers are arranged on top, and the pizza bagels are briefly baked.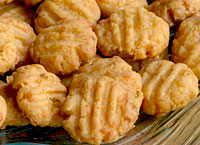 These little pop-in-your-mouth cheese snacks have a hearty yet flaky texture with the distinct flavor of cheddar cheese, and an outer crust with a light crispy crunch.
Cheese Coins
are made with flour, butter, your choice of cheddar or Monterey jack cheese, along with some diced green chiles, pimientos and seasonings. These little cheese appetizers can be served warm from the oven, at room temperature, or cold from the fridge.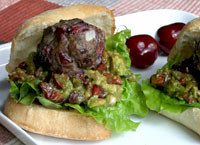 Cherry Meatball Sliders
have a delightfully fresh flavor, thanks to some finely chopped fresh sweet cherries. A little Dijon is added to the meatball mixture to counter the mild sweetness of the cherries, but the touch of natural sweetness is what makes these meatball sliders so fabulous! A delicious Cherry and Avocado Salsa is placed under the meatballs on top of small lettuce leaves, giving these mini sandwiches the perfect touch!