Appetizers and Snacks
Appetizer and snack recipes (also referred to as snacks, finger food, party food, hors d'oeuvres and canapés) are almost always easy to make and can be made with almost any food imaginable. They c an be mild or spicy, hot or cold, made with meat or vegetarian style, and in many cases require little or no refrigeration. Appetizers can be prepared in endless ways, and can be served for most any occasion, whether it be a holiday, party or social event,
and can cater to a small group or a large crowd. They can also simply be made as tasty snacks for your family or friends anytime. Some appetizers can even be served as a side dish to a main course or as the main course itself. Below you will find a collection of my personally tested favorite appetizer and snack recipes that have been a huge hit at parties, holidays and other events.
When you click on any of these appetizer recipes, you will be taken to LoveThatFood's sister website,
EndlessAppetizers.com
, where all the appetizer recipes have been broken down into convenient categories to help make your search for the perfect appetizer much easier. EndlessAppetizers.com will open in a separate new window, allowing you to continue browsing recipes on LoveThatFood.com. On these appetizer pages, you'll find recipes for cheese appetizers, egg appetizers, bread appetizers, meatball appetizers, pastry appetizers, vegetable appetizers, dips and salsa, appetizers for kids and more. New appetizer recipes will be added often, so please visit these pages again soon or visit EndlessAppetizers.com!
Appetizer Recipes ▼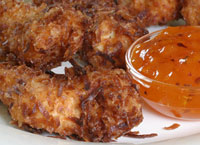 Coconut Crusted Chicken with Apricot Dipping Sauce
features small strips of chicken breast that are lightly coated with corn starch, dipped in frothy egg whites, then rolled in flaked sweetened coconut and fried until golden and crispy. The crispy coconut coated chicken strips are served with a mildly spicy apricot dipping sauce made with apricot preserves, red pepper flakes and red wine vinegar.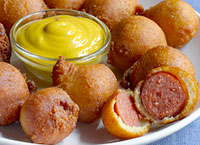 You can easily turn corn dogs into a fun and tasty appetizer with this
Corn Dog Bites recipe
. Corn Dog Bites have that same delicious crispy crust and tender hot and steamy inside that Corn Dogs are famous for, and are even easier to make! This photo shows Corn Dog Bites made with all beef weenies, but you can also use turkey, chicken, beef or pork weenies. For a surprising twist, cheese-filled weenies can also be used.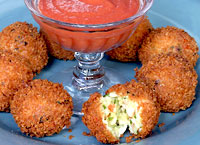 Crab Croquettes with Cocktail Sauce
are delicious and elegant, but also have an element of fun, due to their size and crispy coating and the fact that you can dip them into a tasty tangy sauce. Crab Croquettes are made with cooked crab, diced green onions, seasonings and some egg and panko bread crumbs. This mixture is formed into balls, coated with egg and rolled in more panko crumbs, then fried until crispy and golden brown.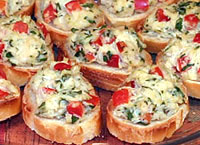 Crab Crostini
is a tasty and colorful appetizer that will add a touch of elegance to any party, holiday or social event. This crab appetizer recipe features mini slices of bread topped with a light and delicious flaky crab mixture made with red bell pepper, chives, parsley, Dijon, Parmesan cheese, mayonnaise, hot pepper sauce and some freshly squeezed lime juice. This recipe couldn't be easier - just slice, top and broil!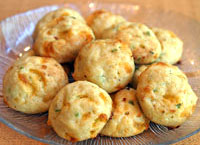 This
Crab Puffs appetizer recipe
produces light and puffy balls that give a touch of elegance and subtle sophisticated flavor to any event. This seafood appetizer is very easy to make and makes plenty! Flour, butter, cheddar cheese, green onions and the right flavorings perfectly compliment the crabmeat. Crab Puffs can be made in advance and baked later. These crab puffs plump up into soft, light and fluffy balls with subtle flavor.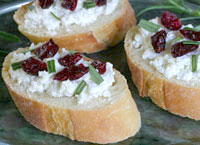 These
Cranberry and Goat Cheese Canapés
are as simple as can be, yet deliver delicious fresh flavor that both adults and kids will love. Also, as you can see by the red and green colors provided by the dried cranberries and fresh rosemary, these canapés are the perfect easy appetizer to serve during the holidays as Christmas appetizers (though they're delicious all-year-long!).