Appetizers and Snacks
Appetizer and snack recipes (also referred to as snacks, finger food, party food, hors d'oeuvres and canapés) are almost always easy to make and can be made with almost any food imaginable. They c an be mild or spicy, hot or cold, made with meat or vegetarian style, and in many cases require little or no refrigeration. Appetizers can be prepared in endless ways, and can be served for most any occasion, whether it be a holiday, party or social event,
and can cater to a small group or a large crowd. They can also simply be made as tasty snacks for your family or friends anytime. Some appetizers can even be served as a side dish to a main course or as the main course itself. Below you will find a collection of my personally tested favorite appetizer and snack recipes that have been a huge hit at parties, holidays and other events.
When you click on any of these appetizer recipes, you will be taken to LoveThatFood's sister website,
EndlessAppetizers.com
, where all the appetizer recipes have been broken down into convenient categories to help make your search for the perfect appetizer much easier. EndlessAppetizers.com will open in a separate new window, allowing you to continue browsing recipes on LoveThatFood.com. On these appetizer pages, you'll find recipes for cheese appetizers, egg appetizers, bread appetizers, meatball appetizers, pastry appetizers, vegetable appetizers, dips and salsa, appetizers for kids and more. New appetizer recipes will be added often, so please visit these pages again soon or visit EndlessAppetizers.com!
Appetizer Recipes ▼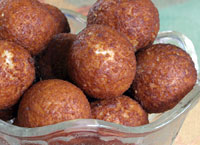 These
Cream Cheese Balls
are quickly fried in oil, giving them golden color with a warm and delicious interior and a crispy, crunchy exterior. These cheese ball appetizers are made with bread crumbs, which give the cream cheese a nice texture as well as a crispy outer crunch when fried. They taste great warm, moments after they've been fried, but also stay nice and crispy and taste just as great when cooled to room temperature!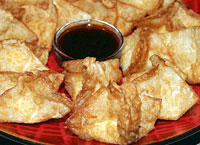 Cream Cheese Wontons
are crispy on the outside with a delightful whipped cream cheese filling inside made with finely minced green onions and water chestnuts. They are served with a mild and tangy soy-based dipping sauce (included with recipe) that truly compliments these appetizers and is unbelievably easy to prepare. This wonton recipe makes 40-45 appetizers, and is a great recipe with which the kids can lend a helping hand!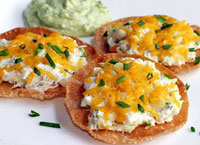 Crispy Crab Wontons with Avocado Creme
feature crispy fried wontons topped with a light and tangy crab salad topped with melted cheddar cheese. This crab wonton recipe also features an Avocado Creme that is served on the side as garnish, made with avocado, lemon juice and a small amount heavy cream. These Crispy Crab Wontons can be served for lunch, brunch or dinner as a light main course, or as appetizers when made small.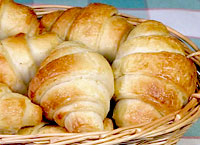 These crescent-shaped
Croissants
are light, flaky and buttery, and are wonderful fresh from the oven, toasted or served at room temperature. These French pastries (also known as crescents or crescent rolls) can be made in any size and can be served in a variety of ways. Small croissants make wonderful appetizers, medium-sized croissants are great as a side dish for any meal, while large sizes can be used for sandwiches.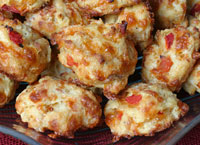 Curry Chicken Cheese Puffs
are tasty hearty puffs made made with diced chunks of chicken breast (diced turkey may also be used), shredded cheddar cheese and diced roasted red peppers (or diced fresh green bell pepper, if desired). These puffs are seasoned with curry powder for a unique flavor boost, though if desired, this seasoning can be omitted. These chicken cheese puffs are a great snack for all ages!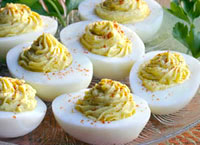 Deviled Eggs
are an all-time favorite appetizer or snack that can be served any time of day, all year-round. It's also one of the easiest and most economical appetizers you will ever make. The only ingredients needed are eggs, mayonnaise, mustard, a little salt and pepper and some paprika or cayenne pepper to add a little sprinkle of color and flavor. These delicious protein-filled cold appetizers are soft, creamy and delicious!