Appetizers and Snacks
Appetizer and snack recipes (also referred to as snacks, finger food, party food, hors d'oeuvres and canapés) are almost always easy to make and can be made with almost any food imaginable. They c an be mild or spicy, hot or cold, made with meat or vegetarian style, and in many cases require little or no refrigeration. Appetizers can be prepared in endless ways, and can be served for most any occasion, whether it be a holiday, party or social event,
and can cater to a small group or a large crowd. They can also simply be made as tasty snacks for your family or friends anytime. Some appetizers can even be served as a side dish to a main course or as the main course itself. Below you will find a collection of my personally tested favorite appetizer and snack recipes that have been a huge hit at parties, holidays and other events.
When you click on any of these appetizer recipes, you will be taken to LoveThatFood's sister website,
EndlessAppetizers.com
, where all the appetizer recipes have been broken down into convenient categories to help make your search for the perfect appetizer much easier. EndlessAppetizers.com will open in a separate new window, allowing you to continue browsing recipes on LoveThatFood.com. On these appetizer pages, you'll find recipes for cheese appetizers, egg appetizers, bread appetizers, meatball appetizers, pastry appetizers, vegetable appetizers, dips and salsa, appetizers for kids and more. New appetizer recipes will be added often, so please visit these pages again soon or visit EndlessAppetizers.com!
Appetizer Recipes ▼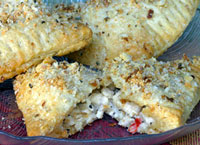 These light and flaky
Chicken Cheese Turnovers
are filled with a delicious mixture of diced chicken (turkey may also be used), cream cheese, chopped green onions and diced pimiento. Before popping into the oven, the turnovers are brused with melted butter and topped with crumbled croutons. The flaky pastry dough can be made from scratch or purchased from the store in pre-packaged form for quicker preparation.
Chicken Koftas
are meatballs made with a mixture of minced chicken, spices and herbs. This kofta recipe is an Indian version consisting of chicken breasts that are quickly and easily minced together in a food processor with some Indian and other common spices and seasonings. The minced mixture is then formed into meatballs and fried in a modest amount of oil, then served with lime pickle.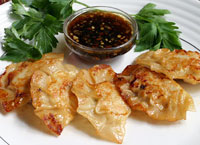 Chicken Pot Stickers
(also referred to as Chinese Dumplings, Gyoza or Jiaozi) feature wonton wrappers (or Gyoza wrappers) filled with a pureed mixture of chicken breast, garlic, green onions, water chestnuts, fresh ginger root and Napa cabbage and an egg to help hold the mixture together. This recipe also includes a delicious tangy Asian dipping sauce made with soy sauce, rice vinegar and an assortment of spices.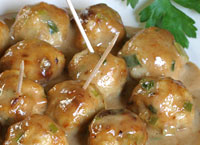 These chicken meatballs are healthy and delicious!
Chicken Satay Meatballs with Peanut Sauce
are made with shredded chicken breast, diced green onions, garlic, soy sauce, fresh bread crumbs and egg, and are baked in the oven. The meatballs are served with a fabulous sauce made with coconut milk, peanut butter, lime juice, brown sugar, fish or soy sauce, rice wine vinegar, and a touch of cayenne.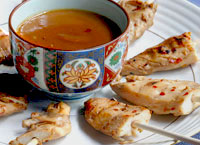 Chicken Satay with Peanut Sauce
is an easy and fun appetizer recipe to make that only takes a few minutes to cook on the grill. Tender thin strips of chicken breast are marinated in a sauce made with soy sauce, lime juice, fresh garlic, fresh ginger root and red pepper flakes. The marinated chicken strips are then pierced with wooden skewers and placed on the grill until they turn a nice golden brown, then served with a tasty peanut sauce.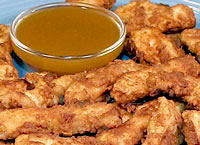 Chicken Strips with Honey Mustard Sauce
is a quick and easy dish loved by all ages. Little strips of chicken breast are coated with a seasoned flour mixture, then fried to a golden brown. A honey mustard dipping sauce made with a simple combination of honey and Dijon mustard is served with the chicken, making this finger food not only tasty, but fun! This dish is great for parties, gatherings and potlucks as a main dish or hot appetizer.