Pork
Pork has tremendous flavor, and comes in so many forms. You can you find pork in the form of bacon, ribs, roasts, sausage, salami, pork chops, tenderloin,
ham and more, many of which come in various varieties of their own, producing amazing pork dishes. Pork is a tender and delicious, fresh-tasting meat that can be cooked in endless ways, and can often be used in recipes that call for chicken or beef. Pork is fabulous barbequed and smoked, roasted, slow-cooked, in casseroles and pot pies, with pasta dishes, soups and stews, pizzas and more. Pork can be served for breakfast, lunch or dinner, or used as a tasty ingredient for appetizers and snacks. The more you cook with pork and experiment with a variety of pork dishes, you will learn more about the cuts you enjoy the most, and the ways you prefer to prepare those cuts. Below you will find a variety of pork recipes for baking, barbecuing, slow cooking and stir-frying, as well as recipes for pork casseroles, pulled pork sandwiches, pork stew and potstickers.
Pork Recipes ▼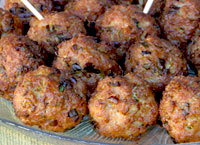 These
Asian Meatballs
are incredibly easy to make and cook in just 2-3 minutes! They're crispy on the outside and tender, hot and steamy on the inside, making them a fun and very tasty appetizer. As with most all meatball recipes, this Asian Meatball recipe can be made as a main course, simply by making the meatballs slightly larger and adding your favorite Asian style sauce and serving them over rice and perhaps with vegetables..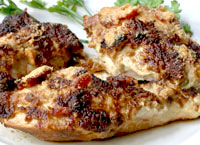 Bacon Parmesan Chicken
is an extremely easy chicken recipe that produces fabulous flavor. This simple chicken dish features boneless, skinless chicken breasts that are placed in a casserole dish, slathered with with Dijon mustard, then topped with teriyaki sauce, crumbled cooked bacon and Parmesan cheese. That's it! The chicken breasts are then are baked for just 30 minutes, until the top turns brown and crispy.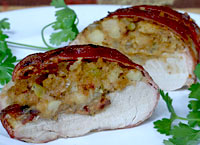 This
Bacon-Wrapped Pork Tenderloin with Cornbread Stuffing
is full of fabulous flavors and textures! Pork tenderloin is sliced lengthwise, then opened and topped with a delicious cornbread stuffing made with sautéed diced celery, diced onions, chopped apples and garlic, along with crumbled bacon and apple cider. The tenderloin and cornbread stuffing are wrapped up together with bacon and roasted to deliciousness!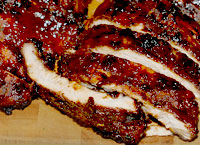 What tops sitting down to a feast of tender, juicy and smoky barbecued pork ribs? Whether your favorite pork ribs are baby backs or loin backs, you're always in for a real treat when it comes to barbecuing ribs. This mouth-watering
barbecued rib recipe
calls for a little "dusting" with a dry rub. The ribs are then cooked over low heat for 3-5 hours and slathered with a Kansas City BBQ Sauce toward the end of the cooking process.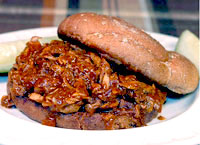 This
slow cooker BBQ Pork Sandwich recipe
is not only very easy, it will give you that delicious and distinct home-cooked flavor that can only be derived from combining all the right flavors and letting them simmer in your own kitchen all day. All you need is a little ketchup, water, flavorings and spices, sliced pork (almost any cut will do) and some hamburger buns, French rolls or even toasted bread, and you're good to go!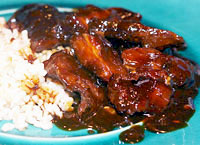 Whether you prefer country pork ribs or pork spare ribs, this
slow-cooker Candied Polynesian Spareribs recipe
delivers a fabulous-flavored sweet and tangy pork dish that will melt i n your mouth! Pork ribs are cooked for 8-10 hours in your slow-cooker (or crock-pot) with a sauce combining the flavors of soy sauce, ground ginger and fresh ginger root, sugar and dry mustard. Pork ribs can be served alone, while country ribs are great over rice!