Candied Polynesian Spareribs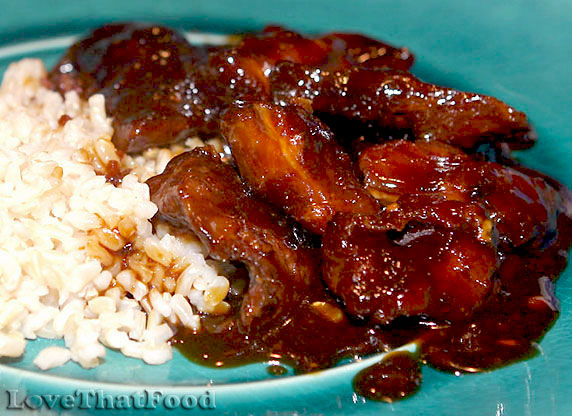 Tips:
Boneless country style pork ribs may also be used (be sure to remove any unwanted fat before cooking).
Suggestion:
Delicious served with rice (photo shows brown rice).
Using a slow cooker (also often referred to as crock pot) to prepare dinner is a great way to make it feel as though someone else has cooked your dinner for you.
Simply prepare you dinner in the morning, and let it cook by itself throughout the day, filling your home with wonderful smells. This Candied Polynesian Spareribs recipe will most definitely fill your house with those incredible smells, and will deliver a fabulous pork dish that only a slow cooker can deliver!
This slow cooker recipe features your choice of spareribs or boneless country pork ribs. Spareribs are commonly a finger food, while boneless country ribs are eaten with a fork. Both are delicious! The ribs are cooked in a sweet and tangy sauce that makes them as tender as can be. These Polynesian ribs are sweet, tart and delightful, and have a flavor loved by all ages. Photo shows boneless country pork ribs served with brown rice.
Ingredients
2 lbs. lean pork spareribs or boneless country pork ribs
1/3 cup soy sauce
1 tablespoon ground ginger
1/4 cup cornstarch
1/2 cup cider vinegar
3/4 cup sugar
1/4 cup water
1 tablespoon salt
1/2 teaspoon dry mustard
1 small piece gingerroot or crystallized ginger (about 1 inch)
Directions
Preheat oven to 425° F.

Cut any large obvious chunks of fat off of ribs (country ribs tend to have more fat). Cut spareribs into individual 3-inch pieces. In a small mixing bowl, mix soy sauce, ground ginger and cornstarch until smooth. Brush mixture over spareribs, reserving left over sauce. Set bowl of sauce aside. Place ribs on rack or broiler pan. Bake in preheated oven for 20 minutes to remove fat. Drain.

While ribs are in oven, add vinegar, sugar, water, salt, dry mustard and gingerroot (or crysatllized ginger) to the bowl of sauce you used for brushing on the ribs. Whisk all ingredients together and pour the sauce into crock pot (slow cooker). After ribs have browned, remove from oven and add them to the crock pot, pushing them down into the sauce. Cover and cook on low setting for 8 to 10 hours.

If desired, brown and crisp ribs in broiler for 10 minutes before serving.
Other recipes you might like: