Sauces
The right sauces and gravies can turn an average meal into a spectacular meal! I have always felt that turkey gravy was the best part of a Thanksgiving feast, and would pour the gravy all over everything except my slice of
pumpkin or apple pie. When it comes to chicken, pork, beef, fish, vegetables and more, there are endless sauces that can add enormous flavor as well as moisture. Over time, I have come to realize the flavor power that gravies and sauces possess all across the board. Though I have not yet posted my beloved turkey gravy recipe, below you will find the beginning of my never-ending quest for delicious sauces.
Sauces can be made with endless ingredients, such as various types of cheese, wine, peanut butter, tomatoes, sweet peppers, cream, and a variety of Asian ingredients (to name only a few!). Sauces can also be made with meat, such as Genoise Sauce, a delicious gourmet French-style sauce made with ground beef and vegetables. I will never be able to gather enough sauce recipes, and hope that you will enjoy experimenting with sauces the way I do. A good sauce is hard to find!
Sauce Recipes ▼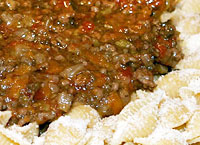 Beef and Red Wine Sauce
is a unique and elegant French pasta dish with fabulous and distinct flavor. Tender ground beef is cooked with finely diced vegetables in a beef-flavored broth with a hint of red wine, then served over a bed of pasta shells and sprinkled with freshly grated Parmesan cheese. This dish can be made in advance and refrigerated or frozen, then reheated. Truly delicious!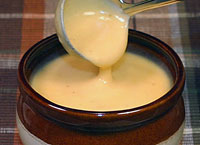 This easy
Cheddar Cheese Sauce recipe
can be made with your favorite type of cheddar cheese, whether it be sharp, extra sharp, white cheddar or mild, and can be used with a large variety of foods, including vegetables such as broccoli, cauliflower, brussel sprouts and many others. It is also delicious drizzled over baked potatoes along with some bacon bits and diced chives or green onions, or even burgers, as with
Golden Onion Burgers
.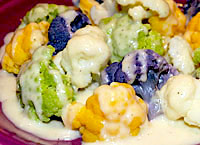 This easy
Cheddar Parmesan Cheese Sauce recipe
produces a mild cheese sauce featuring both cheddar and parmesan cheeses that can be used with a number of foods.This photo shows Cheddar and Parmesan Cheese Sauce drizzled over multi-colored cauliflowerets (see
Cauliflower with Cheese Sauce
, but this sauce also tastes great with a variety of other vegetables, such as broccoli, brussel sprouts, baked potatoes and more!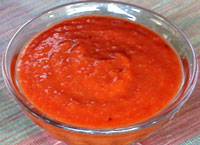 Cocktail Sauce
is traditionally served with seafood dishes, and goes especially well as a sauce on the side or dipping sauce with shrimp and crab dishes and appetizers, such as shrimp cocktail and
Crab Croquettes
. Made with canned diced tomatoes, bottled chili sauce prepared horseradish and seasonings, this sauce has a wonderfully tangy and mildly spicy flavor and makes enough sauce to serve a small crowd.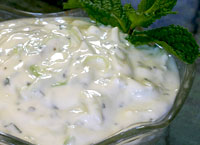 Cucumber Raita
is a variation of Raita, an Indian (also Pakistani and Bangladeshi) condiment that can be served with almost any Inidian main dish. This healthy Cucumber Raita recipe is made with yogurt, julienned cucumber and finely chopped fresh mint leaves, giving this raita a very refreshing flavor that's mild enough to compliment almost any Indian main dish. It's also great served with potatoes and other vegetables!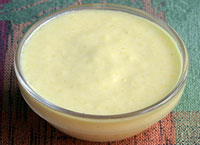 This easy
Hollandaise Sauce recipe
is made with lightly seasoned egg yolks, butter and a hint of freshly squeezed lemon, giving this sauce a subtle tangy citrus flavor. Hollandaise Sauce can be used in a variety of ways, such as with vegetables (see
Broccoli with Hollandaise Sauce
), Eggs Benedict and many other food preparations, including pasta dishes, chicken, pork meats.