Sauces
The right sauces and gravies can turn an average meal into a spectacular meal! I have always felt that turkey gravy was the best part of a Thanksgiving feast, and would pour the gravy all over everything except my slice of
pumpkin or apple pie. When it comes to chicken, pork, beef, fish, vegetables and more, there are endless sauces that can add enormous flavor as well as moisture. Over time, I have come to realize the flavor power that gravies and sauces possess all across the board. Though I have not yet posted my beloved turkey gravy recipe, below you will find the beginning of my never-ending quest for delicious sauces.
Sauces can be made with endless ingredients, such as various types of cheese, wine, peanut butter, tomatoes, sweet peppers, cream, and a variety of Asian ingredients (to name only a few!). Sauces can also be made with meat, such as Genoise Sauce, a delicious gourmet French-style sauce made with ground beef and vegetables. I will never be able to gather enough sauce recipes, and hope that you will enjoy experimenting with sauces the way I do. A good sauce is hard to find!
Sauce Recipes ▼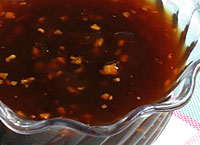 Teriyaki Sauce
is a sweet and tangy sauce that although most popularly used with beef, chicken or pork, can be used in a variety of other ways, such as with shrimp or fish, or as a dipping sauce for egg rolls, chicken nuggets, chicken wings and more. This Teriyaki Sauce is used with the
Polynesian Teriyaki Burger recipe
, and can also be used with
Teriyaki Steak Strips
or other grilled meats.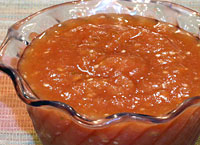 This wonderfully fresh
Tomato and Tomatillo Salsa
is made with tomatoes, tomatillos, onion, garlic and Serrano chile pepper. It's flavor is quite unique, and pleasantly differs from traditional salsa recipes that are made with tomatoes (yet no tomatillos). The tomatoes and tomatillos marry beautifully with this salsa recipe, producing a fresh, tart, and lively flavor, while the Serrano pepper adds the perfect balance of spice.