Sauces
The right sauces and gravies can turn an average meal into a spectacular meal! I have always felt that turkey gravy was the best part of a Thanksgiving feast, and would pour the gravy all over everything except my slice of
pumpkin or apple pie. When it comes to chicken, pork, beef, fish, vegetables and more, there are endless sauces that can add enormous flavor as well as moisture. Over time, I have come to realize the flavor power that gravies and sauces possess all across the board. Though I have not yet posted my beloved turkey gravy recipe, below you will find the beginning of my never-ending quest for delicious sauces.
Sauces can be made with endless ingredients, such as various types of cheese, wine, peanut butter, tomatoes, sweet peppers, cream, and a variety of Asian ingredients (to name only a few!). Sauces can also be made with meat, such as Genoise Sauce, a delicious gourmet French-style sauce made with ground beef and vegetables. I will never be able to gather enough sauce recipes, and hope that you will enjoy experimenting with sauces the way I do. A good sauce is hard to find!
Sauce Recipes ▼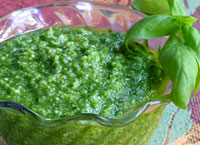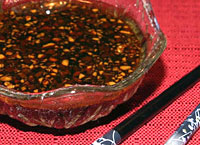 This
Pot Sticker Sauce recipe
(also sometimes called Chinese Dumpling sauce) is indeed perfect for serving as a dipping sauce for pot stickers (also sometimes referred to as Chinese dumplings, jiaozi, gyoza, or momocha), but it doesn't stop there! This pot sticker dipping sauce also tastes delicious as a sauce for a variety of other Asian dishes, including egg rolls, wontons, spring rolls,
lettuce wraps
and
stir-fry dishes
.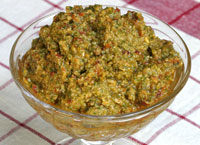 This
easy pesto recipe
is similar to traditional pesto recipes, in that it uses fresh basil leaves, Parmesan cheese, pine nuts and olive oil. However, while there is no garlic used with this recipe, sun-dried tomatoes (oil-packed or dried), freshly squeezed lemon juice, red pepper flakes and a little salt are added, bringing amazing tangy and delicious flavor to this pesto. See the
recipe
for great serving ideas!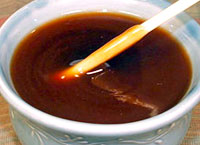 This
homemade Sweet and Sour Sauce recipe
is very easy to make, and with a combination of ingredients you likely have in your kitchen, will add that Chinese restaurant flavor to a large variety of dishes. This sweet and sour sauce is great served as a dipping sauce for various Asian foods, such as egg rolls, spring rolls, potstickers and fried wontons. It can also be used as a dipping sauce for chicken fingers and/or meatballs.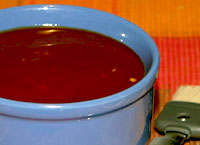 This
Tangy BBQ Sauce recipe
has great flavor, using a modest amount of ingredients. Ketchup, lemon juice, apple cider vinegar, brown sugar, ground mustard, Worcestershire sauce, water and a few seasonings are simmered together for an hour on the stove, allowing the flavors to mingle. This BBQ sauce recipe produces 3 1/2 cups of tangy sauce, which will easily cover many servings of meat, including beef, chicken, sausages, etc.