Sauces
The right sauces and gravies can turn an average meal into a spectacular meal! I have always felt that turkey gravy was the best part of a Thanksgiving feast, and would pour the gravy all over everything except my slice of
pumpkin or apple pie. When it comes to chicken, pork, beef, fish, vegetables and more, there are endless sauces that can add enormous flavor as well as moisture. Over time, I have come to realize the flavor power that gravies and sauces possess all across the board. Though I have not yet posted my beloved turkey gravy recipe, below you will find the beginning of my never-ending quest for delicious sauces.
Sauces can be made with endless ingredients, such as various types of cheese, wine, peanut butter, tomatoes, sweet peppers, cream, and a variety of Asian ingredients (to name only a few!). Sauces can also be made with meat, such as Genoise Sauce, a delicious gourmet French-style sauce made with ground beef and vegetables. I will never be able to gather enough sauce recipes, and hope that you will enjoy experimenting with sauces the way I do. A good sauce is hard to find!
Sauce Recipes ▼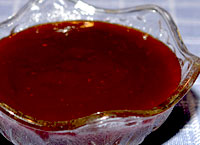 Honey Molasses BBQ Sauce
is a tart and mildly sweet barbeque sauce recipe with great smoky flavor. It that has a nice consistency for coating barbeque meats, such as beef or pork ribs, chicken and smoked sausages. The main players in this sauce are ketchup, vinegar, molasses, honey, liquid smoke and Tabasco, along with some garlic and onion powder. If you are feeding a crowd, it's easy to double-up on the ingredients.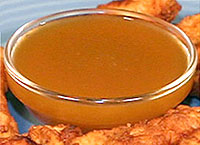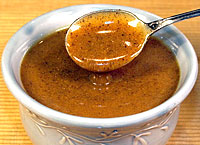 This
Hot and Sweet Mustard Sauce recipe
produces a tangy sauce with the perfect balance of hot and sweet and an amazing flavor that will wake up your taste buds! English mustard, brown sugar and red wine vinegar play the main roles in creating the well-balanced flavor of this elegant mustard sauce recipe. This sauce is fabulous with ham, pork, sausages and corned beef, and can also be used as a glaze when baking these meat dishes.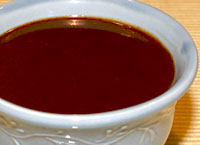 Amidst the many versions of barbeque sauce out there, this
Kansas City BBQ Sauce recipe
is one that deserves a spot at the top of the list! While most classic barbeque sauces use similar ingredients, it's really all about the quantity of each ingredient and the method of preparation. This sauce is made with chopped onions and minced garlic, and can be strained to a smooth consistency before using or kept in a chunky state.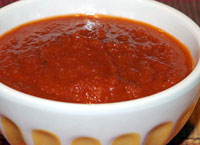 This traditional
Marinara Sauce recipe
is made with tomato sauce, crushed tomatoes , diced onion, minced garlic, red pepper flakes and dried crushed basil and oregano leaves, and can be used for a large variety of Italian dishes. It also is wonderful served as a dipping sauce for
Cheese and Garlic Breadsticks
,
Mini Calzones
, pizza crust, crispy-fried breaded cheese sticks, crispy-fried breaded zucchini sticks and more.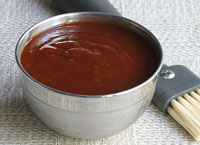 This
Memphis Barbecue Sauce
has a wonderful balance of sweet and tangy, and tastes fabulous on most any type of grilled meat (See
Memphis BBQ Ribs
. This BBQ sauce simmers on your stove for a couple hours, giving the ingredients time to mingle as the sauce thickens. It can be made while you're slow-cooking your grilled meat, or can be made in advance and stored in the refrigerator for days until you're ready to use it.