Memphis BBQ Ribs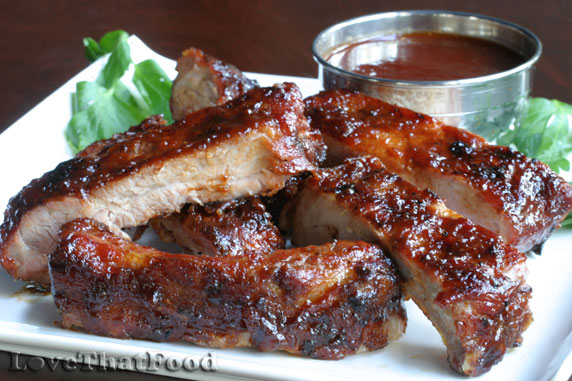 Tips:
Barbecue sauce may be made in advance and stored in refrigerator until ready to use and may be used with other grilling meats as well. Ribs may be prepared the night before (with rub applied) and stored in refrigerator until ready to grill.
Whether you spell it barbecue, barbeque or BBQ, there's certainly one thing that will never change - the awesome smoky aroma and melt-in-your-mouth flavor that comes from barbecue ribs cooked on an outdoor grill. Add to that some homemade BBQ sauce and/or a dry rub recipe to slather all over your ribs before cooking them, and the flavor experience gets even more ridiculous!
There are actually quite a few types of barbecue styles, including Memphis, Kansas City, Texas and Hawaii to name a few. This BBQ ribs recipe features a Memphis-style barbecue, complete with a dry rub recipe and a homemade BBQ sauce recipe that will entertain your taste buds! The barbecue sauce recipe makes a good amount, so if you don't use all of it with your first batch of ribs, simply store the sauce in the fridge for your next batch of BBQ ribs, chicken or other grilled meat.
Memphis barbecue recipes predominantly feature pork - traditionally ribs
or pork shoulder (also called pork butt). The pork can be cooked wet (with barbecue sauce) or dry (with only a rub applied before cooking). Both wet and dry are delicious and depend on your personal preference or type of pork dish you're serving. These barbecue ribs combine the beauty of both dry and wet ribs, beginning with a seasoned rub and ending with a homemade barbecue sauce that can be applied during the last few minutes of cooking and/or served on the side for even more of that wonderful BBQ flavor. These ribs are cooked slowly over low heat (for 3 hours), which ensures evenly cooked and tender [and almost] fall off the bone ribs. You can certainly use your favorite cut of ribs, whether it be baby back ribs, country ribs, pork loin ribs or St. Louis style ribs. The photo above shows this Memphis BBQ recipe made with baby back ribs - many people's all-time favorite!
When preparing the grill for slow-cooking your ribs, simply push the hot coals to the side of the grill, allowing enough room for your ribs where there are no coals directly below. (The only time you'll want direct heat under your ribs is if you like to brown a little barbecue sauce on the ribs during the last few minutes of cooking.) If using a non-gas barbecue, close the openings to your barbecue so only a small amount of air can enter. Reducing the air flow will ensure a low slow-cooking temperature that will safely allow your ribs to cook for 3 hours without burning. It's a good idea to check them occasionally to see if the heat level needs adjusting (more air to increase the heat or less air to reduce the heat). Lastly, I highly recommend dropping some wood chips into the coals a few times during the cooking process, because this will add to that amazing smoky flavor!
Ingredients
3 slabs pork ribs (baby back ribs, pork loin ribs or St. Louis style ribs)



Barbecue Sauce

4 cups ketchup
2 cups water
1/2 cup light brown sugar
1/2 cup granulated sugar
1 tablespoon freshly ground black pepper
1 tablespoon onion powder
1 tablespoon dry mustard powder
1/4 cup freshly squeezed lemon juice
1/4 cup Worcestershire sauce
1 cup apple cider vinegar
1/4 cup light corn syrup
coarse or Kosher salt
2 tablespoons rub (recipe follows)



Rub

1/4 cup paprika
1 tablespoon granulated sugar
2 teaspoons onion powder
Directions
Barbecue Sauce
Whisk together all ingredients in a large saucepan until blended and smooth. Bring sauce to a boil over high heat, stirring frequently until sauce begins to boil, then reduce heat to low and simmer, uncovered, for 2 hours, stirring occasionally. (Sauce will reduce by about 1/4 to 1/3.) Remove from heat and allow to cool. (Sauce may be made in advance and stored in refrigerator overnight or up to 1 week.)
Ribs
Rinse rib slabs under running water, then pat dry with paper towels. Salt rib slabs on both sides, then liberally apply Rub to both sides of slabs. Cover with plastic wrap and place (preferably on a
baking pan
) in refrigerator for at least 1 hour or overnight.
Preheat the grill to 250° F. (or if using a non-gas barbecue, once coals are hot, adjust barbecue ventilation openings so only a small amount of air can enter from bottom and top.) Arrange coals to one side of the barbecue, then place rib slabs (curl side up) on the other side of the grill, away from the coals (not directly above), so the ribs will be cooked using indirect heat. (Note: Adding wood chips to the charcoal occasionally during cooking will add great, smoky flavor to the ribs.)
Cook the rib slabs for about 2 hours, then flip slabs over and cook for about 1 more hour or until ribs are tender. Apply the Barbecue Sauce during the last 5-10 minutes of cookng, turning to apply to both sides of slabs and watching closely to not overcook. (Alternatively, you can apply the Barbecue Sauce to the ribs after they've been removed from the grill.)
(Tip: To test doneness of ribs, lift one slab off the grill with tongs about halfway down the slab. When you lift the slab, it should be flexible and easily bend downward to about a 45-degree angle. Also, when the ribs are done, the meat should pull away easily from the bone (yet not fall off the bone).
Remove the ribs from the grill. Slice between the bones and serve with additional Barbecue Sauce (the reserved sauce that has not been charred on the grill will have additional tangy flavor).
Other recipes you might like: