Louisiana Barbecued Chicken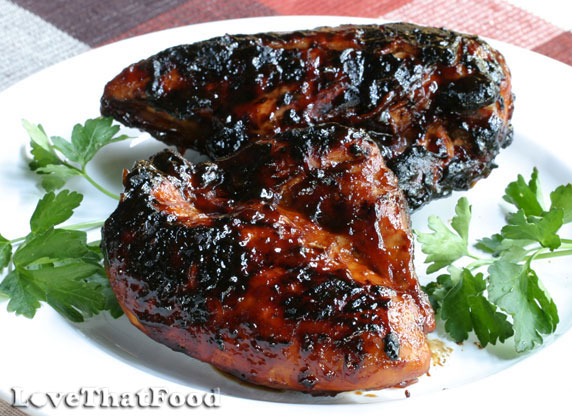 Cook Time:
1 to 1 1/2 hours, depending on cuts of chicken
Tips:
Amount of butter may be reduced as much as preferred.
Barbecuing chicken on your outdoor charcoal grill can be new and different every time, simply by trying different barbecue sauces, rubs, marinades, herb mixtures and by trying new cooking methods. Different cuts of chicken can also add variety, whether it be quartered whole chickens, breasts (boneless or bone-in), thighs, legs, or by cooking your chicken with the skin
on or removed. Chicken can also be grilled using skewers , such as with
Chicken Satay with Peanut Sauce
or chunks of chicken cooked on skewers shish kabob style with other foods such as pineapple chunks, tomatoes, onions, mushrooms and more.
This barbecue chicken recipe features any cuts of chicken you prefer, whether it be legs, thighs, breasts or a quartered whole chicken. The Louisiana style barbecue sauce recipe used with this bbq dish features some butter, which helps to keep the chicken moist while cooking. Along with a good number of ingredients you'll likely find in your pantry, the sauce also uses prepared barbecue sauce, which gives you the opportunity to add a little of your own favorite barbecue flavor. Lastly, the chicken is cooked for 1 to 1 1/2 hours, depending on the heat of your coals and the cuts of chicken, giving the chicken a nice smoky flavor and a tender and moist meat. Adding some wood chips to the hot coals will provide great added smoky flavor to your chicken as well.
Ingredients
3 2 1/2 to 3-lb. fryers, quartered or any other cuts of chicken
1/4 cup vegetable oil



Barbecue Sauce

1/4 cup butter (1/2 stick)
1 cup diced onion
2 cups (or 1 18-oz. bottle) hickory-flavored or hot barbecue sauce
2/3 cup (or 1 5-oz. bottle) steak sauce
1/4 cup Worcesterdshire sauce
2 tablespoons soy sauce (or to taste)
3 tablespoons honey (or to taste)
1 tablespoon brown sugar
2 lemons, quartered
3/4 cup freshly squeed orange juice
Directions
Melt butter in a medium saucepan over medium-high heat, then add onions and saute until soft (about 5 mintues). Add the barbecue sauce, steak sauce, Worcestershire sauce, soy sauce, honey, brown sugar, lemons and orange juice. Bring to a boil, then reduce heat to low. Simmer until sauce becomes thick (about 30 minutes). Remove from heat and discard the lemons.

Prepare charcoal grill, adding soaked wood chips to coals if desired. Brush chicken pieces with olive oil, then place on grill and sear both sides. Move seared chicken to the outer edges of the grill, then cover the grill. Adjust the air vents so they are only one-quarter open (or adjust temperature if using a gas grill). Turn chicken and brush generously with sauce about every 10 minutes.

Cook chicken for about 1 to 1 1/2 hours (depending on size and cuts of chicken) until chicken is done but still tender. Reheat unused sauce and serve with chicken.
Other recipes you might like: