Grilled Lemon Garlic Chicken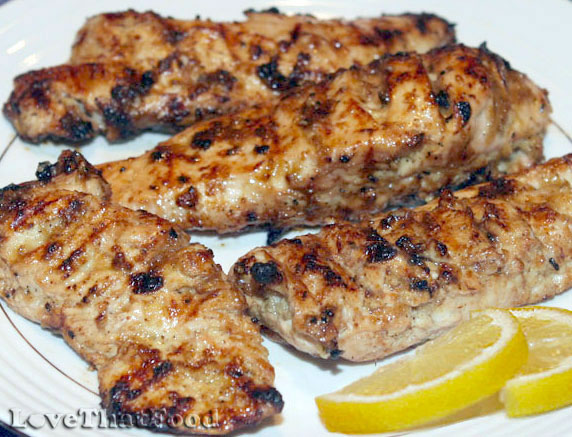 Cook Time:
About 30 minutes
Tips:
Chicken may be marinated overnight, if desired.
I am always searching for new ways to grill chicken - both indoors and out. This Lemon Garlic Chicken recipe is a very tasty chicken dish that can be grilled outdoors or indoors in the oven under the broiler using traditional broiling
methods. The photo above shows this dish after it was cooked on a charcoal grill. Chicken breasts are first soaked two hours to overnight in a marinade made of lemon, Worcestershire sauce, Tabasco, grated onion and a few spices, then grilled for a short time until they are golden brown and juicy.
The beauty of this Lemon Garlic Chicken recipe and other grilled chicken recipes is that they require very minimal preparation and cook in a very short time. Because this recipes calls for only 6 chicken breast halves, I recommend placing the charcoal briquettes on only one side of the grill. This will allow you to move the quickly cooked chicken pieces to the cooler side of the grill (to keep them warm yet prevent burning) while the other pieces finish cooking.
Ingredients
6 skinless, boneless chicken breast halves
2/3 cup olive or other oil
1/2 cup lemon juice (about 2 1/2 lemons)
1 tablespoon Worcestershire sauce
1/8 teaspoon hot sauce (such as Tabasco)
2 cloves garlic
1 small onion, grated
1 teaspoon salt
1 teaspoon pepper
1 teaspoon celery salt
Directions
Trim off unwanted fat from chicken breasts and set aside. Place all remaining ingredients in a blender, and puree until smooth. Reserve 1/4 cup of mixture and chill in refrigerator.

Place breasts in a shallow casserole dish or plastic bag (zip-lock or bag with twisty tie). If using casserole dish, pour lemon mixture over chicken breasts, turning breasts to completely coat. Press down breasts so they are completely covered by lemon mixture. Cover with plastic wrap and store in refrigerator. If using plastic bag, place chicken breasts in bag, then pour lemon mixture into bag. Seal the bag and place in an open container (in case of any leakage) in the refrigerator. Chill chicken with lemon marinade for 2 hours up to overnight.

Prepare outdoor grill. When coals are hot, place chicken pieces on grill. Baste top sides of chicken with lemon mixture, while allowing chicken to cook until lightly browned on first side (about 5 minutes). Turn to begin cooking other side of chicken. Baste browned side of chicken breasts with lemon marinade. After second sides of chicken breasts have nicely browned, turn again to cook basted sides a little more. Keep turning chicken as necessary to prevent burning, and move fully cooked pieces of chicken to the cooler side of the grill. Remove chicken from grill when there is no pink left, and chicken has a nicely browned surface. You can test chicken's doneness by slicing into thickest part of chicken breasts with a steak knife.
Other recipes you might like: