Grilled Chicken with Soy Wine Sauce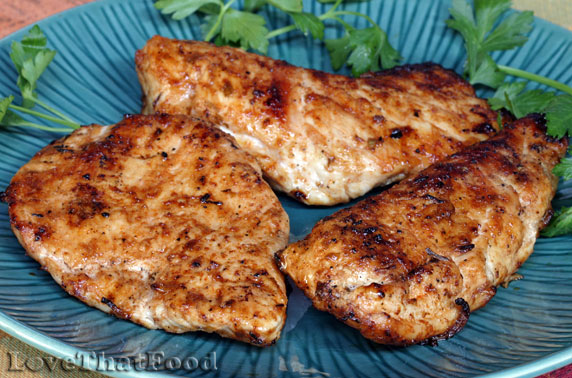 Cook Time:
15-30 minutes, depending on heat of coals and cuts of chicken.
Tips:
Chicken may be marinated in sauce for 30 minutes or more in refrigerator if desired, though marinating is optional.
Considering the popularity of grilling chicken, it's always great to find new basting and marinating sauces that add some pizazz and variety to our outdoor grilling experience. This Grilled Chicken with Soy Wine Sauce recipe will
add lively flavor and succulence to your grilled chicken, while taking only minutes to prepare. Any cuts of chicken can be used with this recipe, including a whole chicken cut-up into pieces, any cuts of chicken (boneless or skin still on), or skinless chicken breasts (as shown in the above photo). The tangy and flavorful sauce used with this recipe combines white wine, soy sauce, lemon juice, melted butter, seasonings and herbs, all of which you likely already have in your kitchen. The addition of butter in this basting sauce helps to add moisture and succulence to the chicken as it grills. If preferred, you can marinate the chicken in the sauce 30 minutes or more before grilling to give the chicken an added boost of flavor, though marinating is totally optional. Grilling time can vary widely (from 10-30 minutes, depending on the temperature of your coals and the size and thickness of your chicken pieces.
Ingredients
1/2 cup butter, melted
1/4 cup dry white wine
1 tablespoon lemon juice
2 tablespoons soy sacue
1 tespoon garlic powder
1 teaspoon onion powder
1 teaspoon paprika
1/2 teaspoon tarragon
1 frying chicken, cut into serving pieces
Directions
In a medium mixing bowl, whisk together melted butter, wine, lemon juice, soy sauce, garlic powder, onion powder, paprika and tarragon. (At this point, chicken may be marinated in sauce in refrigerator for 30 minutes or more - though this step is optional.) Grill chicken over hot coals until cooked yet still tender, turning occasionally as needed to avoid burning and basting frequently with the sauce. Make sure the side to which you last applied sauce is briefly grilled before removing from grill.
Other recipes you might like: