BBQ & Grilling
Barbecuing and grilling is almost always associated with outdoor cooking, usually during a time of year when the weather is sunny, warm and clear and the days are longer. Many BBQ recipes can be made indoors, however, allowing you to enjoy that barbecue
flavor any time of year! When it comes to outdoor cooking, some people prefer gas grills because they make grilling so quick and easy, while others might prefer cooking the old fashioned way on a charcoal grill using charcoal briquettes to get that true smoky flavor. Hibachis are great for grilling in small outdoor spaces or for outings at the beach, park or mountains, because they're so easy to transport. Smokers are wonderful for slow cooking, and will produce amazingly tender and juicy meat with delicious smoky flavor. When preparing BBQ and grilling recipes indoors, indoor grills can work wonders. Many recipes can also be cooked using your oven, broiler and stove. Whether you use the indoor or outdoor cooking method, barbecued and grilled food will always be like a good friend you will want to visit again and again.
BBQ & Grilling Recipes ▼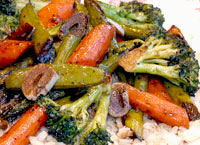 This
Balsamic Grilled Vegetables recipe
features broccoli florets, carrots, asparagus and garlic and snap peas, all of which are marinated in a seasoned balsamic vinegar and olive oil sauce, then cooked to tender-crisp. These vegetables can be cooked in a portable grill, wok, over your outdoor grill or on your stovetop, all producing delicious results. During BBQ season, this is a great way to add a vegetable side dish to your barbequed dish!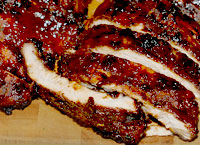 What tops sitting down to a feast of tender, juicy and smoky barbecued pork ribs? Whether your favorite pork ribs are baby backs or loin backs, you're always in for a real treat when it comes to barbecuing ribs. This mouth-watering
barbecued rib recipe
calls for a little "dusting" with a dry rub. The ribs are then cooked over low heat for 3-5 hours and slathered with a Kansas City BBQ Sauce toward the end of the cooking process.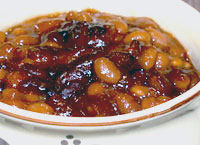 This
Barbecue Baked Beans recipe
is a very easy side dish to make and goes wonderfully with any lunch or dinner barbecue dish or other meat dishes, including chicken, beef and pork. These beans are easy to pack up and take on a BBQ, picnic, party or any other event, and if you own a slow cooker or crock pot, can be kept warm for hours. Large bits of cooked bacon or chunks of ham can also be added to these beans if preferred.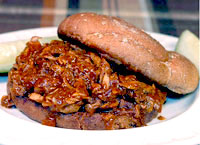 This
slow cooker BBQ Pork Sandwich recipe
is not only very easy, it will give you that delicious and distinct home-cooked flavor that can only be derived from combining all the right flavors and letting them simmer in your own kitchen all day. All you need is a little ketchup, water, flavorings and spices, sliced pork (almost any cut will do) and some hamburger buns, French rolls or even toasted bread, and you're good to go!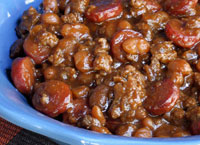 Beanie Weenie
(also often referred to as Beanie Weenies or Beans and Franks) is one of those quick and easy recipes you can fall back on on when you don't have a lot of time or energy to prepare dinner, but you want something tasty that your kids and you will enjoy. This simple skillet dish also provides great leftovers that heat up in minutes. All you need is some ground beef, any style of weenies and a can of baked beans!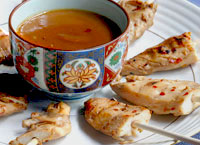 Chicken Satay with Peanut Sauce
is an easy and fun appetizer recipe to make that only takes a few minutes to cook on the grill. Tender thin strips of chicken breast are marinated in a sauce made with soy sauce, lime juice, fresh garlic, fresh ginger root and red pepper flakes. The marinated chicken strips are then pierced with wooden skewers and placed on the grill until they turn a nice golden brown, then served with a tasty peanut sauce.